Shift Accessibility, your trusted partner for curbless shower installations. Our skilled professionals specialize in folding, sliding, and swinging doors, enhancing accessibility and convenience. With barrier free shower access, individuals with mobility challenges can effortlessly enter showers. Our high-quality craftsmanship ensures safety, smooth operation, and promotes inclusivity in your home. Shift Accessibility makes your vision of independent shower access or a more inclusive space a reality.
Professional curbless shower installations in homes
---
If you or a loved one are looking for a convenient and accessible bathing solution, then this article is just for you. We understand the importance of having an inclusive and functional bathroom space that caters to individuals with mobility challenges.
In this guide, we will explore the benefits of installing a barrier free shower, discuss different types available, provide tips on choosing the right materials and design, walk you through the installation process, and offer maintenance and safety tips to ensure your shower remains in top-notch condition.
Trusted by industry renowned organizations
The Installation Process: What to Expect
---
The installation process of a curbless shower is an important step in making your bathroom more accessible and functional. Here's what you can expect during the installation:
1. Assessment: Before starting the installation, a professional will assess your bathroom to determine the best location and layout for the wheelchair accessible shower. They will also consider factors like plumbing connections, electrical wiring, and any structural modifications that may be required.
2. Preparation: Once the assessment is complete, preparations will be made to ensure a smooth installation. This may involve removing existing fixtures or walls, reinforcing the floor if necessary, and making any adjustments needed to accommodate wheelchair accessibility.
3. Plumbing and Electrical Work: Next, plumbing connections for water supply and drainage will be installed or modified as needed. If there are any electrical components involved in features like lighting or temperature control, they will also be addressed at this stage.
4. Installation of Shower Base: The barrier free shower base is then installed according to the chosen design specifications. This typically involves leveling it properly to ensure proper drainage.
5. Wall Surrounds and Fixtures: After the base is securely in place, wall surrounds are installed around it using waterproof materials such as tiles or panels. Any additional fixtures like grab bars or seating options are also added at this time.
6. Finishing Touches: Finishing touches such as caulking gaps between tiles or panels are done to ensure a watertight seal around the shower area.
It's important to note that every installation process may vary depending on individual needs and specific project requirements.
Wheelchair accessible shower
Understanding the Need for Barrier Free Showers
---
When it comes to bathroom accessibility, traditional showers with high thresholds and narrow entrances can pose significant challenges for individuals with limited mobility or those who use wheelchairs. That's where wheelchair accessible showers come in. These specially designed shower spaces remove obstacles and make bathing safer and more convenient for everyone.
One of the key reasons why barrier free showers are essential is their ability to improve independence. For individuals with disabilities or seniors who may require assistance, a wheelchair accessible shower provides them with the opportunity to bathe on their own terms. It promotes a sense of self-sufficiency and preserves dignity by eliminating the need for constant help from caregivers.
Not only do these showers enhance independence, but they also prioritize safety. With no barriers to step over, there is less risk of trips or falls during entry and exit – particularly important for those using mobility aids like walkers or wheelchairs. Additionally, many curbless showers offer slip-resistant flooring options that reduce accidents even further.
Furthermore, wheelchair accessible showers promote inclusivity within households. They ensure that every family member can access the shower area comfortably regardless of age or physical abilities. This eliminates any feelings of exclusion and fosters an environment where everyone feels valued and accommodated.
It's worth noting that installing a curbless shower not only benefits individuals with specific needs but also adds long-term value to your home. As society becomes increasingly aware of inclusive design principles, having an accessible bathroom can be seen as a valuable selling point should you ever decide to put your house on the market.
In conclusion (or without concluding), understanding why barrier free showers are necessary goes beyond just convenience; they address fundamental aspects such as independence, safety, inclusivity within households, and future-proofing your property's value.
Types of curbless showers
When it comes to curbless showers, there are several types to choose from, each catering to different needs and preferences. Let's take a closer look at some popular options available in the market.
Roll-In Showers: These showers feature an open design that allows for easy wheelchair access. With no lip or threshold to navigate, individuals with mobility challenges can effortlessly roll their wheelchair into the shower area.
Walk-In Showers: Designed with a low step or curb, walk-in showers offer a more accessible option for those who may not require a full roll-in shower but still need some assistance.
Transfer Showers: Ideal for individuals who can transfer themselves from a wheelchair to a shower seat, these showers have wider doors and ample space to accommodate the transfer process comfortably.
Wet Rooms: A wet room is an entirely waterproof bathroom where the entire floor acts as the shower area. This design eliminates any barriers or enclosures altogether, providing maximum accessibility and flexibility for users.
Customized Options: Depending on your specific needs and preferences, you can also opt for customized barrier free showers tailored to fit your unique requirements.
With various types of wheelchair accessible showers available, it's important to assess your individual needs before making a decision. Consulting with professionals will help ensure you select the right type of shower that best suits your accessibility requirements while maintaining style and functionality in your home bathroom setup.
Manufacturer spotlight: Schluter Curbless Shower Systems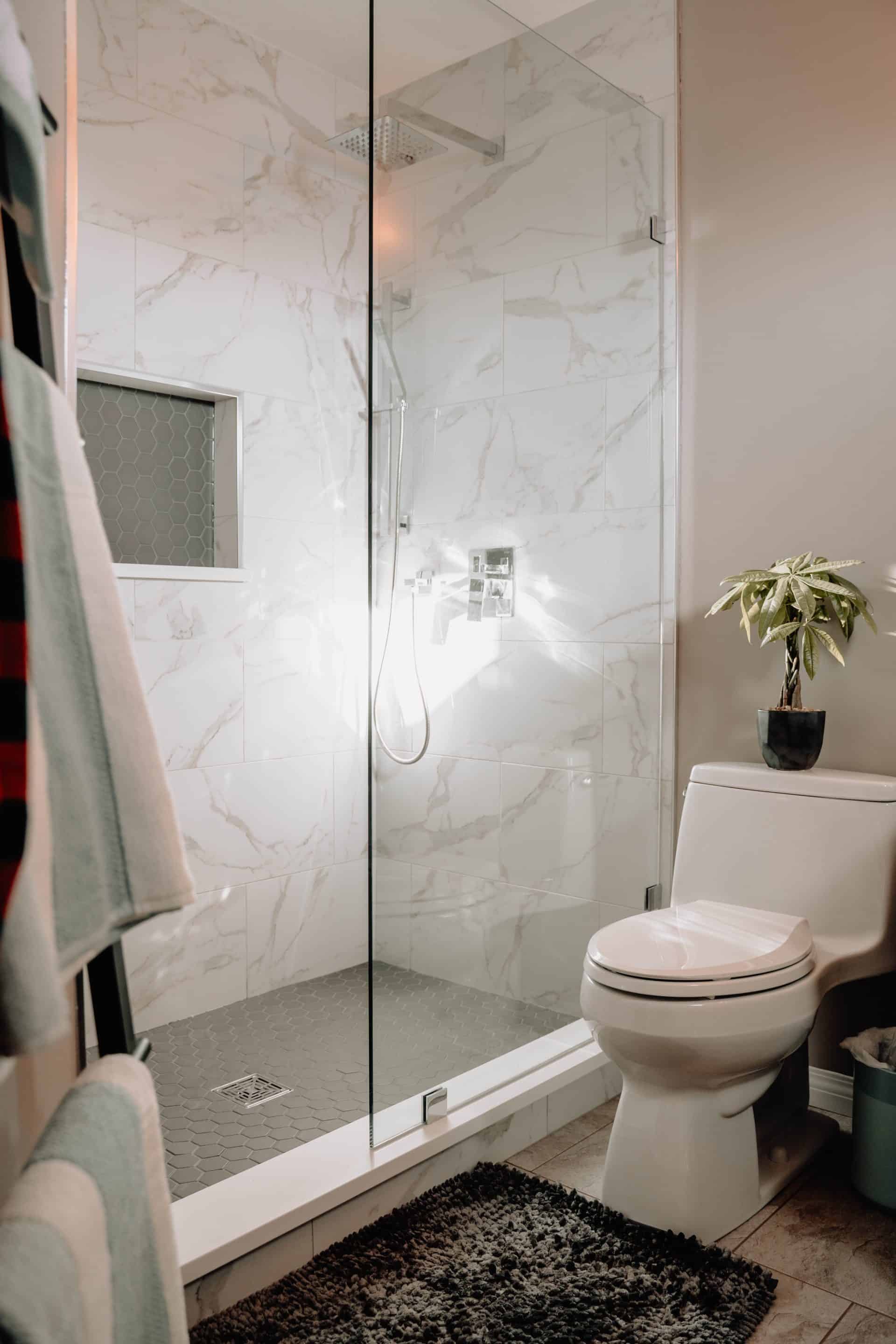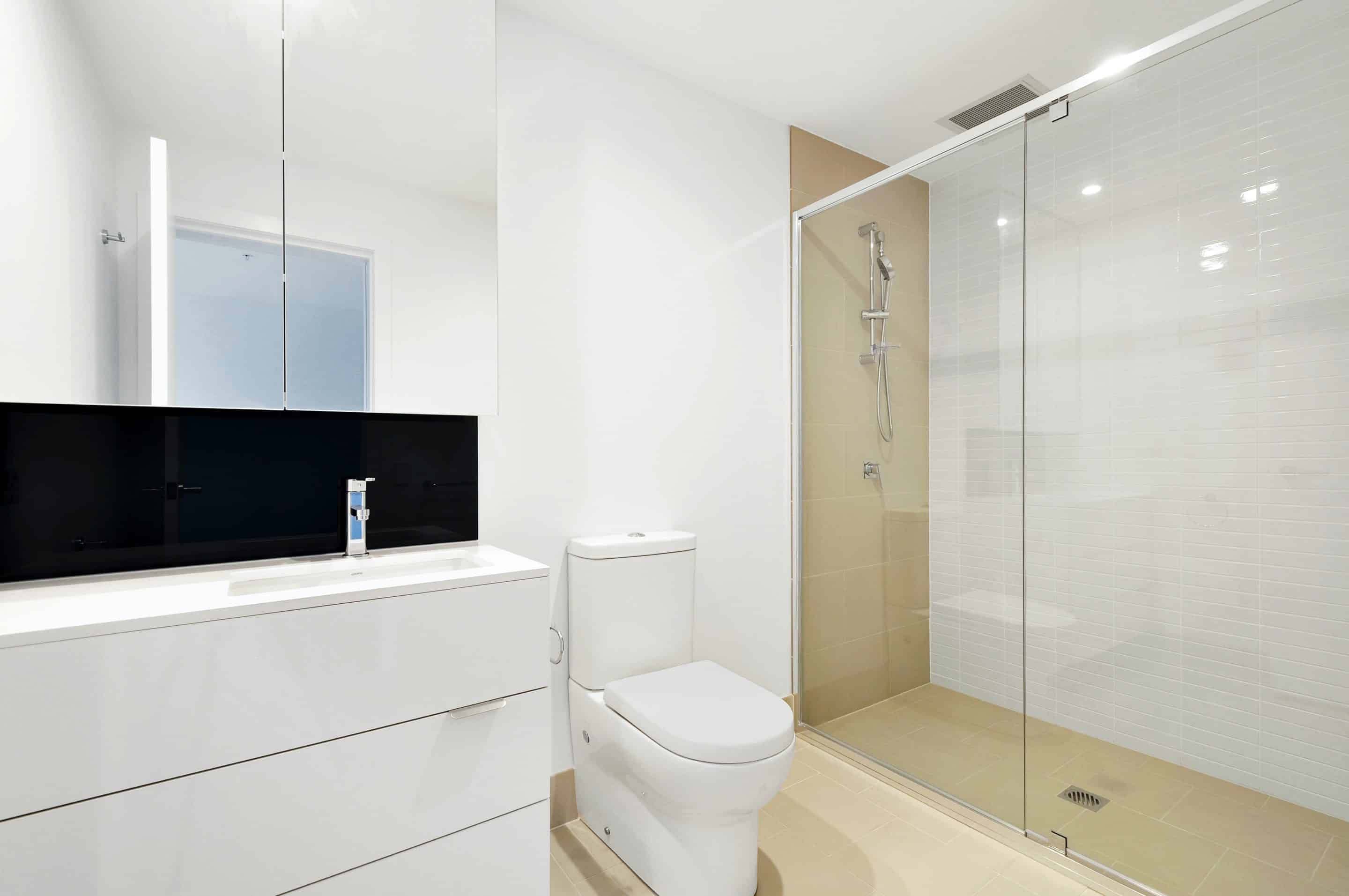 Benefits of installing a wheelchair accessible shower
---
Having a curbless shower in your home can offer numerous benefits for individuals with mobility challenges or those who simply prefer a more accessible and convenient bathing experience. Here are some key advantages to consider.
Improved Accessibility: A barrier free shower provides easy access for individuals using wheelchairs, walkers, or other mobility aids. It eliminates the need to step over high thresholds or navigate narrow spaces, making it safer and more comfortable for all users.
Enhanced Safety: With no barriers or obstructions to navigate around, the risk of slips and falls is significantly reduced. This is especially important for older adults or individuals with balance issues who may be at higher risk of accidents in traditional showers.
Stylish Curbless Shower Designs Options: accessible showers come in a wide range of stylish designs and materials, allowing you to create a bathroom that is both functional and aesthetically pleasing. From sleek modern designs to classic tile options, there are choices available to suit every taste and decor style.
Increased Home Value: Installing a barrier free shower can be an attractive selling point if you ever decide to put your home on the market. Many potential buyers appreciate the convenience and accessibility offered by these types of features, which can help increase the value of your property.
Easy Maintenance: Cleaning and maintaining a barrier free shower is typically easier compared to traditional showers with barriers such as curbs or doors. The absence of obstacles makes it simpler to keep clean and reduces the likelihood of mold or mildew buildup.
Installing a barrier free shower offers improved accessibility, enhanced safety, stylish design options, increased home value, and easy maintenance benefits for homeowners seeking an inclusive bathing experience that meets their unique needs.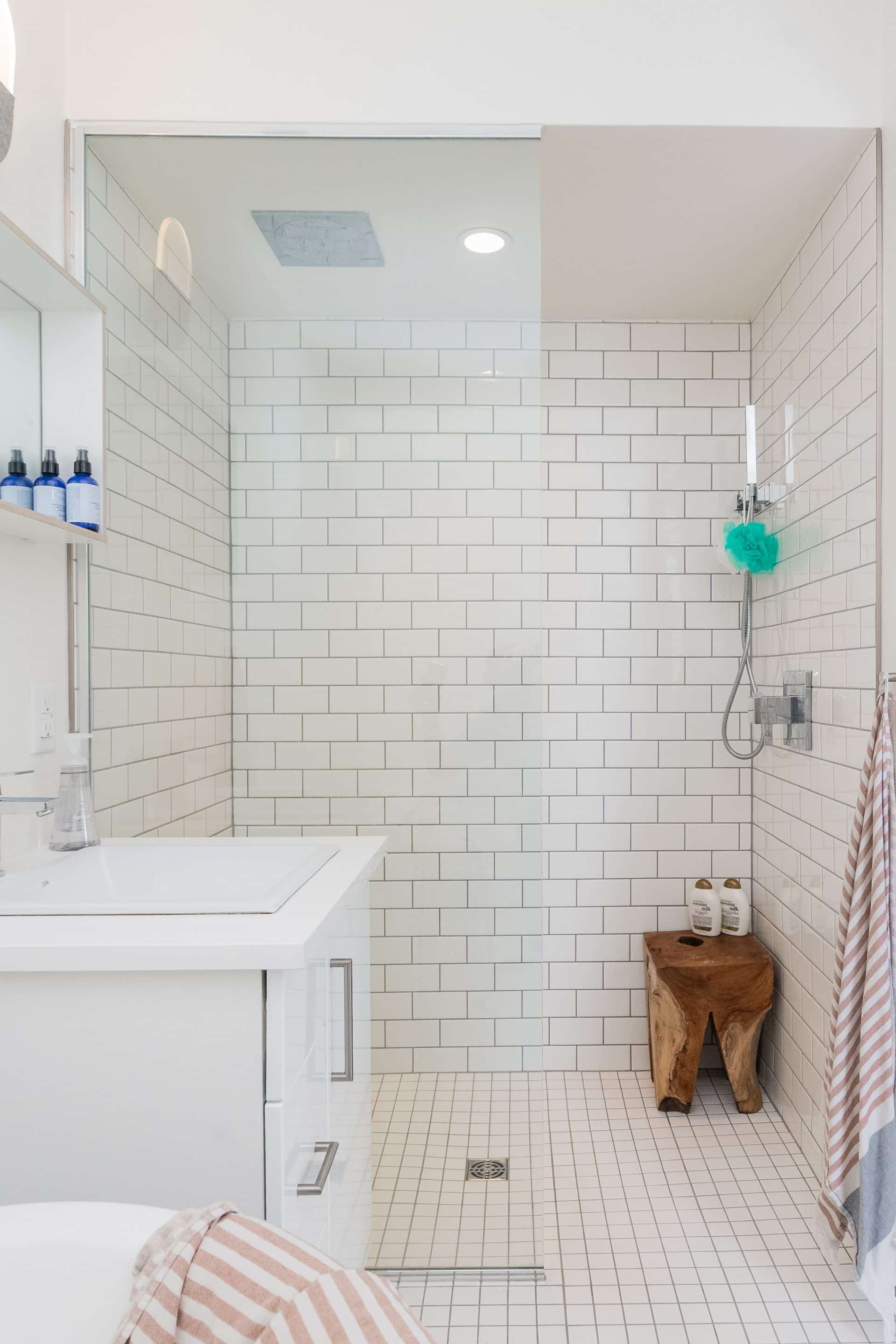 Choosing the Right Materials and Design for Your Shower
---
Choosing the right materials and design for your barrier free shower is crucial in ensuring both functionality and aesthetics. When it comes to materials, opt for slip-resistant tiles or non-slip mats to provide a safe surface for showering. Additionally, consider using grab bars made from sturdy materials like stainless steel or chrome-plated brass to enhance stability and support.
In terms of design, there are various options available that can cater to different needs and preferences. For instance, you may want to consider installing a roll-in shower with an open layout, allowing easy wheelchair access without any obstructions. Alternatively, a curbless shower with a sloping floor can also be an excellent choice as it eliminates the need for stepping over barriers.
When selecting the design elements such as fixtures and fittings, prioritize those that are user-friendly and accessible. Opt for lever handles instead of knobs on faucets as they require less dexterity to operate. Furthermore, choose adjustable height handheld showerheads that can accommodate individuals of various heights or mobility levels.
Remember to consult with professionals who specialize in barrier free showers during the decision-making process. They have valuable expertise in recommending suitable materials based on your specific requirements while considering factors like durability, ease of maintenance, and overall bathroom decor.
Choosing the right materials and design for your barrier free shower will not only enhance accessibility but also create a stylish space that meets your individual needs without compromising safety or comfort
Choosing the right tile for curbless shower
Discover a More Accessible Home with Shift Accessibility
Take the first step toward making your home more accessible by contacting us. Our high-quality craftsmanship and extensive experience with accessibility renovations in Winnipeg can transform any house into an accessible home. Get your estimate by contacting us today!