Transform your home into a safe haven with our expert safety grab bars and safety handrails installations. Our professional team securely mounts every grab bar, providing peace of mind and confidence in daily activities. From bathrooms to hallways, our meticulous installations seamlessly blend with your existing decor, enhancing accessibility and preventing accidents. Trust our skilled technicians to prioritize your safety and deliver a seamless installation experience. Turn your home into a sanctuary of security today.
Professional safety grab bar installations in homes
---
Safety is a top priority for homeowners, and one area that should never be overlooked is the bathroom. Slippery surfaces and limited mobility can make bathrooms a dangerous place, especially for seniors or individuals with disabilities. That's where safety grab bars come in. These simple yet effective devices provide stability and support, helping to prevent accidents and promote independence.
In this article, we will explore the many benefits of installing safety grab bars in homes, discuss different types of grab bars available, consider important factors before installation, weigh the pros and cons of professional installation versus DIY methods, highlight some top companies specializing in safety grab bar installations, provide maintenance tips to ensure longevity of your grab bars' functionality, and ultimately leave you feeling confident about making your home safer with these essential bathroom accessories.
Trusted by industry renowned organizations
Factors to Consider Before Installing Bathroom Safety Grab Bars
---
Before installing safety grab bars in your home, it's important to consider a few key factors. First and foremost, you need to determine the specific areas where grab bars are needed. Typically, these include bathrooms near toilets and showers, as well as staircases or hallways where additional support may be beneficial.
Next, you'll want to assess the layout of your home and identify suitable locations for installation. It's essential that grab bars are securely mounted into studs or other sturdy structural supports. Carefully measure the distance between these supports to ensure proper placement of the bars.
Another factor to consider is the weight capacity of the grab bars. Different models have varying weight limits, so it's crucial to select ones that can safely support the intended users. Additionally, take into account any specific needs or preferences of those who will be using the grab bars.
Think about aesthetics and style when choosing grab bars for your home. There are various designs available that can complement your existing decor while still providing necessary safety features.
By carefully considering these factors before installation, you can ensure that safety grab bars in your home will provide maximum functionality and peace of mind for everyone who uses them.
Types of Safety Grab Bar
---
When it comes to choosing the right safety grab bars for your home, there are several options available. Each type serves a specific purpose and can be installed in various locations throughout your house. Here are some common types of safety grab bars:
Wall-Mounted Grab Bars: These are the most commonly used grab bars and can be installed on any sturdy wall surface. They come in different lengths, shapes, and finishes to match the aesthetics of your bathroom or other areas.
Floor-to-Ceiling Poles: These versatile grab bars provide stability and support in addition to being adjustable in height. They don't require any drilling into walls, making them ideal for rental properties or temporary installations.
Bathtub Rails: Designed specifically for bathtubs, these grab bars help individuals maintain balance while getting in or out of the tub safely.
Corner Grab Bars: Perfect for corner spaces where two walls meet, these grab bars offer added security when moving around tight areas like showers or toilets.
Flip-Up Grab Bars: These innovative bars can be flipped up when not in use, providing more space in small bathrooms without compromising safety.
Remember that each type of safety grab bar has its own installation requirements and weight capacity guidelines, so it's important to choose one that suits your needs best.
Whether you opt for wall-mounted grab bars or floor-to-ceiling poles depends on factors such as the layout of your home and individual mobility needs.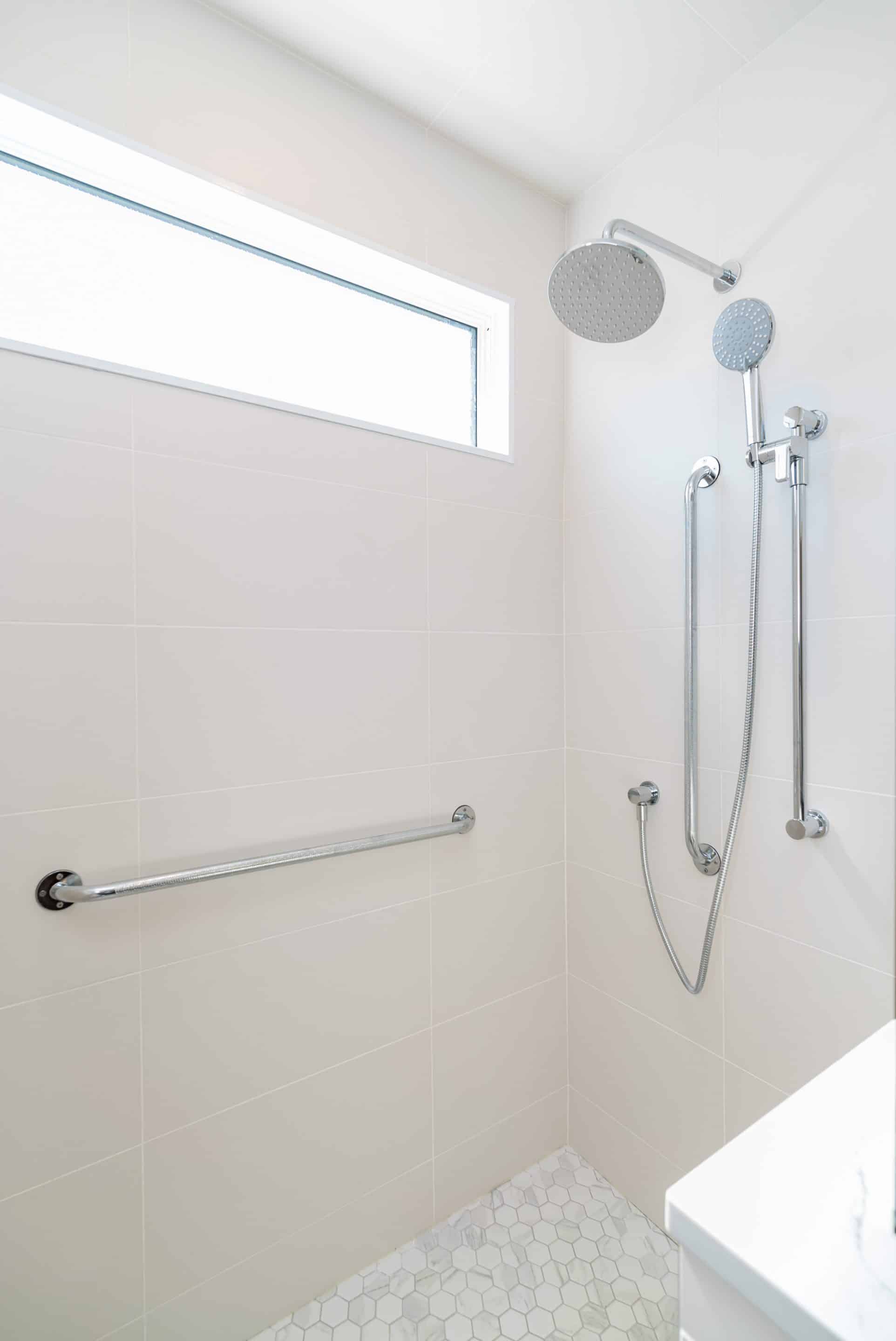 Benefits of Installing Safety Grab Bars in Homes
---
Safety is a top priority for homeowners, especially when it comes to bathroom safety. One effective way to enhance safety in the bathroom is by installing safety grab bars. These simple yet essential devices offer numerous benefits that can greatly improve the wellbeing and peace of mind of residents.
Safety grab bars provide stability and support, making it easier for individuals with mobility issues or balance problems to navigate their bathrooms safely. Whether it's getting in and out of the shower or using the toilet, having a sturdy grab bar within reach can prevent slips and falls.
These bars are versatile and can be installed in various areas of the bathroom, including near toilets, showers, bathtubs, or even next to sinks. This ensures that there are multiple points of support throughout the space.
Another advantage is that safety grab bars are available in different sizes and styles to suit individual needs and preferences. Homeowners have options ranging from sleek stainless steel designs to more decorative options that blend seamlessly with existing bathroom fixtures.
Furthermore, installing safety grab bars can increase independence for individuals with limited mobility. With proper installation at strategic locations around the bathroom, users will feel confident knowing they have something solid to hold onto as they move about independently.
In addition to promoting personal security and reducing accidents at home, these installations also benefit caregivers who may need assistance when supporting loved ones while bathing or using the facilities.
To sum up briefly (without concluding), installing safety grab bars offers improved stability during daily activities such as showering or going to toilet; versatility through placement options like near sinks or bathtubs; customization based on size preference; increased independence; enhanced caregiver support.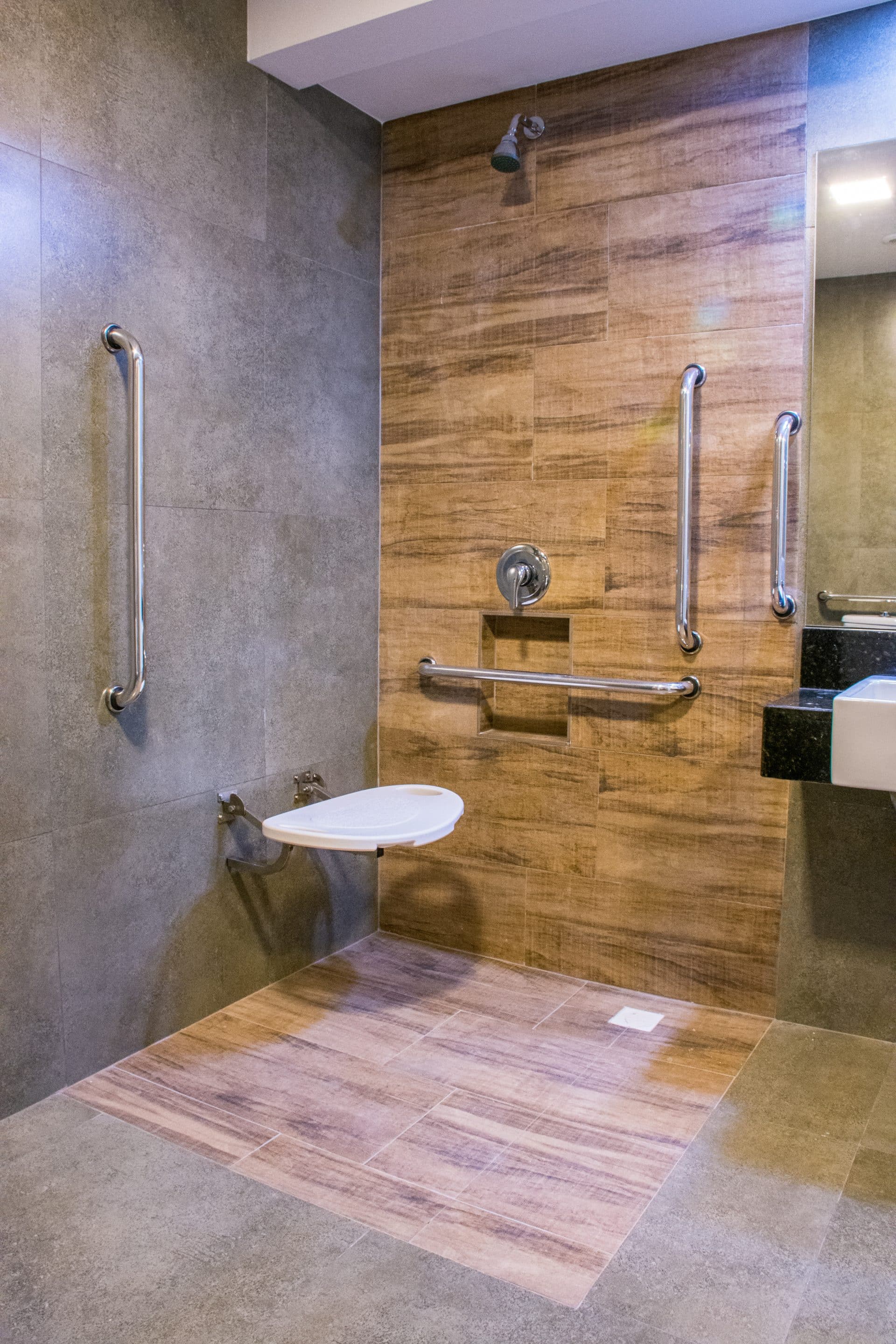 Maintenance and Care Tips for Safety Grab Bars
---
Taking proper care of your safety grab bars is essential to ensure their longevity and effectiveness in providing support. Here are some maintenance and care tips that will help keep your bathroom safety grab bars in great condition.
Regular Cleaning: It is important to clean the grab bars regularly to remove any dirt, grime, or soap residue. Use a mild cleaner or warm water with gentle soap to wipe down the surface of the bars. Avoid using abrasive materials or harsh chemicals as they can damage the finish.
Inspect for Damage: Routinely inspect your safety grab bars for any signs of wear, loose screws, or rust. If you notice any issues, address them immediately by tightening screws or replacing damaged parts.
Dry After Use: After each use, make sure to dry the grab bar thoroughly with a towel to prevent moisture buildup and potential corrosion.
Avoid Hanging Heavy Objects: Do not hang heavy objects such as towels or clothing on the safety grab bars as this can put unnecessary strain on them and compromise their stability.
Professional Maintenance: Consider scheduling professional maintenance at least once a year to ensure that your safety grab bars are still securely installed and functioning properly.
By following these simple maintenance tips, you can ensure that your bathroom safety grab bars remain safe and reliable for years to come
Discover a More Accessible Home with Shift Accessibility
Take the first step toward making your home more accessible by contacting us. Our high-quality craftsmanship and extensive experience with accessibility renovations in Winnipeg can transform any house into an accessible home. Get your estimate by contacting us today!