Residential automatic door openers come with a range of features designed to enhance accessibility and convenience in your home. One key feature is the ability to operate the door using a remote control or push button, allowing individuals to easily enter and exit without having to manually open the door.
Professional Automatic Door Opener Installation in Winnipeg
---
Welcome to our page on professional ADA compliant automatic door opener installation in Winnipeg! If you're looking to enhance accessibility and convenience in your home or business, automatic door openers are a fantastic solution. These innovative devices provide seamless entry and exit for individuals with mobility challenges, making their daily lives easier.
In this page, we'll explore the features of residential automatic door openers, discuss the options available for handicap accessibility, highlight the benefits they offer for improved accessibility, guide you on choosing the right automatic door openers for disabled access, walk you through the installation process, and touch upon maintenance and service requirements. So let's dive in and discover how these remarkable systems can transform your space into an inclusive environment that caters to everyone's needs.
Trusted by industry renowned organizations
Our Accessibility Construction Service
---
The average home isn't built to accommodate the needs of senior citizens or people with mobility disabilities. That's why at Shift Accessibility home renovators, it's our mission to make ordinary homes more inclusive. With the integration of aging in place practices and accessible renovations.
Mobility and simple tasks are more challenging in a traditionally designed home (non-accessible), which is where modifications come in to rectify those challenges. There are solutions for every aspect of your home, from automatic door openers for handicapped access, to showers, to small things like opening a drawer.
The most common accessible renovations we see are bathrooms, kitchens and most notable installing residential home elevators. Such installations involves many specific considerations and safety that can easily be overlooked.
Thinking of absolutely every aspect of someone's daily life and finding better solutions is our passion. By installing innovative products, working with occupational therapists, and using our creativity we can best fit your home so you can do the things you love. Last but not least, providing these modifications eliminates the difficult decision of moving away from your beloved home.
Residential Automatic Door Opener Features
---
Residential automatic door openers for handicapped access come with a range of features designed to enhance accessibility and convenience in your home. One key feature is the ability to operate the door using a remote control or push button, allowing individuals to easily enter and exit without having to manually open the door.
Another important feature is adjustable speed control, which allows you to customize how quickly the door opens and closes. This can be particularly beneficial for those with limited mobility or who require extra time to maneuver through the doorway safely.
Additionally, many residential automatic door openers have safety sensors that detect obstacles in the path of the closing door. This ensures that if something or someone is in its way, it will automatically stop and reverse direction, preventing accidents or injury.
With these impressive features, residential automatic door openers not only provide accessibility but also add an element of convenience and safety to your home environment. Whether you're looking for easier access for yourself or creating a more inclusive space for family members or visitors with mobility challenges, these devices are an excellent investment.
The installation process
The installation process for automatic door openers is a crucial step in ensuring smooth and efficient operation. It involves several key steps to ensure that the opener is properly installed and functioning correctly.
First, a professional installer will assess the doorway to determine the best placement for the opener. They will take into account factors such as accessibility requirements and any potential obstructions that may affect installation.
Next, the necessary hardware and components are carefully installed. This includes mounting brackets, sensors, control panels, and wiring systems. The installer will also make sure that all safety features are properly integrated to meet industry standards.
Once all the physical components are in place, the installer will test the opener to ensure it opens and closes smoothly without any issues. They will also adjust settings such as speed and sensitivity to match individual needs.
Professional installation of automatic door openers is vital for proper functionality and user satisfaction. By following a systematic approach during installation, homeowners can enjoy convenient access while ensuring safety at all times.
Maintenance and service
Maintenance and service are crucial aspects of ensuring the longevity and smooth operation of your automatic door openers for handicapped access. Regular maintenance helps identify any potential issues before they become major problems, saving you time and money in the long run.
To maintain your automatic door opener, it is recommended to clean the sensors regularly to remove any dirt or debris that may obstruct their function. Additionally, lubricating moving parts such as hinges and rollers can prevent them from becoming stiff or squeaky.
Professional service technicians should be called for routine inspections to ensure all components are functioning properly. They will also conduct a thorough examination of electrical connections, wiring, and safety features to ensure everything meets industry standards.
By investing in regular maintenance and servicing for your automatic door opener, you can extend its lifespan and avoid unexpected breakdowns. It's always best to rely on professionals who have experience working with these complex systems to keep them running smoothly for years to come.
Handicap Door Opener Options
When it comes to handicap door opener options, there are several choices available in the market today. These options cater specifically to individuals with mobility challenges, making it easier for them to access buildings and navigate through doors.
One popular option is the push-button automatic door opener. This type of opener allows users to simply press a button to activate the door mechanism, automatically opening and closing it without any physical exertion required. It is an ideal choice for both residential and commercial settings.
Another option is the motion sensor automatic door opener. With this type of opener, the door opens automatically when it detects motion nearby. This hands-free operation makes it convenient for individuals using wheelchairs or walkers as they can easily pass through without needing assistance.
For those who prefer more control over their entryways, there are also remote-controlled automatic door openers available. These openers come with handheld remotes that allow users to operate the doors from a distance, providing added convenience and independence.
With these various handicap door opener options available on the market today, individuals with disabilities can choose the one that best suits their needs and preferences. Whether it's a push-button system, motion sensor technology, or remote control operation, these options make accessibility easier than ever before.
Benefits of Automatic Door Openers for handicapped access
---
Automatic door opener system are not only convenient, but they also provide numerous benefits for accessibility. These devices offer independence to individuals with mobility challenges. With the push of a button or even a motion sensor, automatic door openers eliminate the need for manual effort in opening doors. This is particularly beneficial for people using wheelchairs or walkers who may have difficulty reaching and turning doorknobs.
Automatic door openers improve safety and reduce the risk of accidents. Traditional doors can be heavy and require significant force to open or close, which can pose a danger to those with limited strength or stability. Automatic door openers ensure that doors are easily accessible without exerting unnecessary physical strain.
Automatic door openers promote inclusivity by creating an environment that is welcoming and accommodating for everyone. By installing these devices in public spaces such as malls, hospitals, and offices, businesses demonstrate their commitment to providing equal access opportunities for all individuals regardless of their physical abilities.
Automatic door openers offer many benefits when it comes to accessibility. They enhance independence, improve safety, and promote inclusivity in various settings. Whether it's at home or in public spaces, installing automatic door openers helps create an inclusive environment where everyone can navigate freely and safely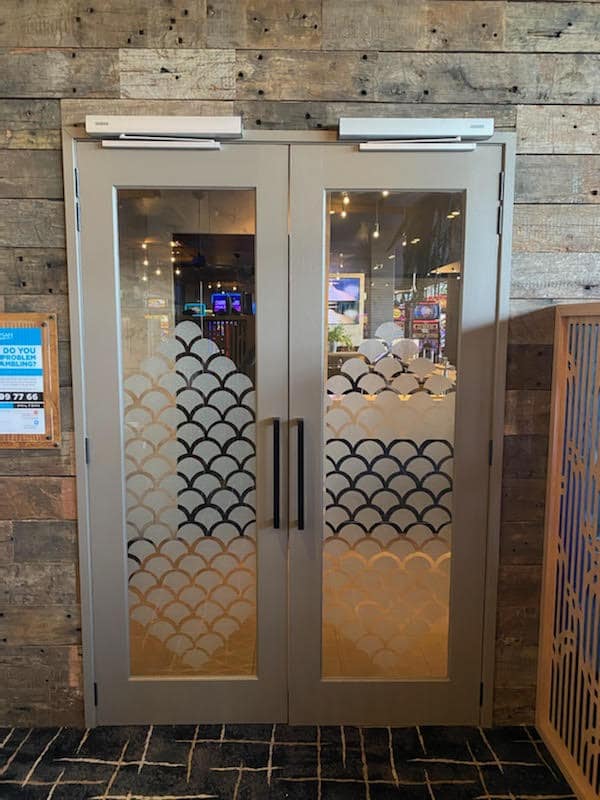 Choosing the Right Automatic Door Openers for disabled access
---
When it comes to choosing the right automatic door opener, there are several factors to consider. First and foremost, you need to determine the type of door you have or plan to install. Different automatic door openers are designed for different types of doors, such as sliding doors, swinging doors, or folding doors.
Next, consider the weight and size of your door. Automatic door openers come with different weight capacities and can accommodate various sizes of doors. It's important to choose an opener that can handle the weight and dimensions of your specific door.
Another important factor is accessibility features. Look for automatic door openers that offer a range of options for individuals with disabilities or mobility issues. This may include features like push-button controls, remote controls, motion sensors, or even smartphone integration.
Selecting the right automatic door opener requires careful consideration of your specific needs and circumstances. By taking into account factors such as the type of door, weight capacity, and accessibility features offered by different models, you can ensure that you choose an automatic door opener that meets all your requirements.
Discover a More Accessible Home with Shift Accessibility
Take the first step toward making your home more accessible by contacting us. Our high-quality craftsmanship and extensive experience with accessibility renovations in Winnipeg can transform any house into an accessible home. Get your estimate by contacting us today!