Are you tired of climbing up and down stairs every day? Do you have elderly or disabled family members who struggle with mobility? If so, then installing a home elevator may be the perfect solution for your needs. Not only does it provide convenience and accessibility, but it also adds value to your home. In this blog post, we'll explore everything you need to know about installing home elevators – from different types available to installation costs and maintenance. So let's dive in!
Reasons to install elevators for homes
---
Installing modern home elevators may seem like an extravagant addition to your home, but it can provide numerous benefits that are worth considering. Firstly, it offers convenience and accessibility for people with mobility issues or disabilities. It eliminates the need to climb up and down stairs daily, making transportation within the house much easier.
Secondly, installing a home elevator can add value to your property. As more people seek homes that cater to their accessibility needs, having an elevator already installed can make your property stand out in the market if you ever decide to sell.
Thirdly, home elevators also offer safety advantages over traditional staircases. They eliminate the risk of falls and accidents on stairs during everyday activities or emergencies such as fires or natural disasters.
Having a modern-looking lift installed in your house is chic and sophisticated looking – they often become focal points of homes! Overall there are many reasons why installing a home elevator could be beneficial for you and your loved ones' daily lives.
Trusted by industry renowned organizations
Our Accessibility Construction Service
---
The average home isn't built to accommodate the needs of senior citizens or people with mobility disabilities. That's why at Shift Accessibility home renovators, it's our mission to make ordinary homes more inclusive. With the integration of aging in place practices and accessible renovations.
Mobility and simple tasks are more challenging in a traditionally designed home (non-accessible), which is where modifications come in to rectify those challenges. There are solutions for every aspect of your home, from wheelchair ramp entrances, to showers, to small things like opening a drawer.
The most common accessible renovations we see are bathrooms, kitchens and most notable installing residential home elevators. Such installations involves many specific considerations and safety that can easily be overlooked.
Thinking of absolutely every aspect of someone's daily life and finding better solutions is our passion. By installing innovative products, working with occupational therapists, and using our creativity we can best fit your home so you can do the things you love. Last but not least, providing these modifications eliminates the difficult decision of moving away from your beloved home.
Different types of home elevators
---
There are different types of personal home elevators available on the market today. Each type has its own features, advantages and disadvantages. The most common types are hydraulic, electric, pneumatic and cable-driven.
Hydraulic home elevators use a pump to move fluid through a cylinder to lift the elevator car. They are reliable and can support heavy loads but require a machine room for installation.
Electric home elevators run on electricity and use cables or chains attached to an electric motor to move the elevator up or down. These elevators do not need a machine room but may require more maintenance than other types.
Pneumatic home elevators use air pressure to move the elevator car up or down inside a tube. They take less space compared to other types of elevators but cannot accommodate as much weight and tend to be slower in operation.
Cable-driven systems utilize steel ropes that attach directly from the cab into an overhead pulley system driven by motors mounted at the top of the hoistway. These systems offer high speed with smooth acceleration rates while accommodating larger weights than pneumatic models. It is also the most affordable home elevators.
When considering which type of elevator is best for your home, it's important to think about factors such as budget, space requirements, load capacity needs and personal preferences in terms of design aesthetics.
See some elevators products from a manufaturer, Savaria
The installation process
The installation process of a home elevator can be complex, but with the right professionals and planning, it can also be seamless. Firstly, an experienced technician will visit your home to conduct a site survey and assess the necessary modifications required for the elevator's installation.
Once this has been evaluated, a customized design plan will be created to fit your specific needs and preferences. This includes choosing the type of elevator you want and where you want it installed within your home.
During installation, some walls may need to be removed or reinforced to ensure that everything is structurally sound. The shaftway will then be constructed along with any additional rooms that need to accompany the elevator such as machine rooms or control areas.
After construction is completed, electrical wiring and mechanical components are installed followed by safety features like door interlocks and emergency alarms. Once all these elements have been inspected for safety compliance standards, testing begins before receiving final approval from regulatory authorities.
While there are many steps involved in installing a home elevator – from site surveying through final inspections – working with knowledgeable technicians who have experience in residential elevators can make all the difference in successfully completing this project!
Maintenance and safety
Maintenance and safety are crucial when it comes to private home elevators. Regular maintenance can help prevent malfunctions and ensure the elevator is functioning properly. It's recommended that homeowners have routine inspections by a licensed technician, at least once a year.
During these inspections, the technician will check for wear and tear on components such as cables, motors, brakes, and pulleys. They'll also inspect the door sensors to ensure they're functioning correctly.
Homeowners should perform daily visual checks before using their elevator to ensure there aren't any obvious issues such as debris or damage inside the car or shaftway.
Safety is another important factor when it comes to a home elevator. Homeowners should always follow safety guidelines such as not exceeding weight limits, keeping hands and feet clear of doors while in operation, ensuring children are supervised during use of the elevator among others.
Additional safety features include emergency stop buttons within reach of all passengers in case of an emergency. Many modern models also feature backup batteries which will allow safe descent even in power outages.
By understanding proper maintenance practices and following basic safety guidelines homeowners can enjoy their home elevator with peace of mind knowing they're operating safely for everyone who uses them.
Home elevator cost
If you're considering installing a home elevator, one of the primary factors to keep in mind is the home elevator cost. The price of a home elevator can vary widely depending on several factors.
The type of elevators for homes you choose will have a significant impact on its cost. For example, hydraulic elevators are generally more expensive than cable-driven systems because they require more complex installation and maintenance procedures.
Another factor that contributes to the home elevator cost of a home elevator is the number of floors it needs to travel between. Elevators for homes with only two or three floors tend to be less expensive than those designed for multi-story homes.
Additionally, customization options such as finishes and design features can increase the overall cost of your home elevator project.
It's important to note that while the upfront costs associated with installing a home elevator may seem high, they can add significant value to your property over time – especially if you plan on aging in place or reselling your home down the line. Considering all these aspects before deciding which type and how many stories do you want your residential lift will help you make an informed decision about what kind of investment makes sense for you and ensures lifelong comfort within your own space!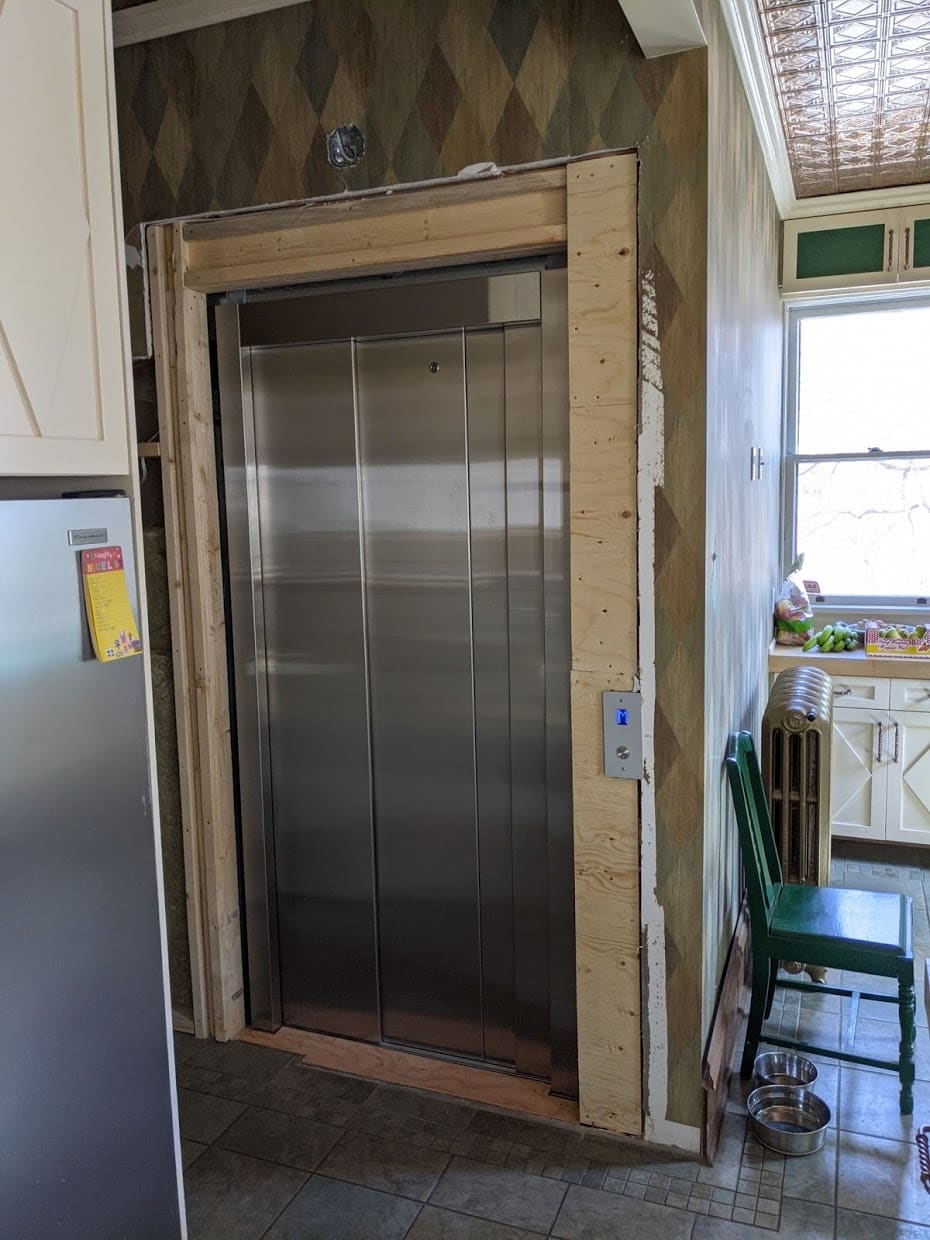 Where can I install an elevator in my home?
---
When considering installing a home elevator, one of the most important things to determine is where it can be installed. The good news is that elevators for homes are now more versatile than ever before and can be installed in many different areas.
One popular option is to install an elevator in a stairwell or unused closet space. This allows for easy access between floors without taking up too much square footage in your home. Another option is to build an addition onto your home specifically designed to house an elevator.
For those with limited space, a shaftless or pneumatic vacuum elevator may be the solution. These types of elevators do not require a separate machine room and take up minimal space within the home.
It's also important to consider accessibility when choosing where to install your elevator. Placing it near main living areas such as the kitchen or family room will ensure easy access for everyone in the household.
Ultimately, where you choose to install your home elevator will depend on various factors such as available space and personal preferences. Consulting with a professional installer can help you make this decision and ensure proper installation for optimal safety and efficiency.
Elevators for aging in place renovations
---
Installing a home elevator can be a great investment for your property. It not only adds convenience but also increases the value of your home. With different types of elevators available in the market and professional installation services, you can easily find an option that suits your needs and budget.
However, if you're looking to renovate your home with aging in place modifications, a home elevator becomes more than just a luxury item. It can provide independence and accessibility for those who have mobility issues or use wheelchairs. Plus, it reduces the risk of falls on stairs.
So whether you're planning ahead or making immediate changes to accommodate specific health requirements, consider adding an in-home elevator as part of your renovation plans. You'll give yourself or loved ones peace of mind knowing they always have easy access to all areas of their homes.
Discover a More Accessible Home with Shift Accessibility
Take the first step toward making your home more accessible by contacting us. Our high-quality craftsmanship and extensive experience with accessibility renovations in Winnipeg can transform any house into an accessible home. Get your estimate by contacting us today!