As our loved ones age or face mobility challenges, it's important to ensure that their homes are equipped with the necessary accessibility features. One of the most significant additions you can make is a professional wheelchair lift installation in your home. These lifts can help your loved ones safely and easily move up and down between floors, without having to worry about stairs or other obstacles. In this blog post, we'll explore the different types of wheelchair lifts available for home installation, discuss the process of installing them, go over maintenance and safety tips, as well as provide insights into where you can install an elevator in your home. So let's dive in!
Reasons to install a wheelchair lift for homes
---
Installing a professional wheelchair lift in your home can offer numerous benefits, especially if you or your loved ones face mobility challenges. Here are some of the reasons why a lift for wheelchair might be an excellent addition to your home:
Firstly, it's essential for ensuring safety and independence. For individuals who use wheelchairs or other mobility devices, stairs can pose significant risks and obstacles. Installing a lift provides them with the freedom to move around their homes at ease and independently.
Secondly, installing a lift for wheelchair increases accessibility within the house. Without one, moving between floors would require significant effort and assistance from caregivers or family members.
Moreover, it adds value to your property as these lifts provide convenience not only for those who need them but also for visitors who may have difficulty climbing stairs.
There is no denying that investing in a professional wheelchair lift installation offers many advantages that make life easier for those with reduced mobility while making their houses more accessible.
Trusted by industry renowned organizations
Our Accessibility Construction Service
---
The average home isn't built to accommodate the needs of senior citizens or people with mobility disabilities. That's why at Shift Accessibility home renovators, it's our mission to make ordinary homes more inclusive. With the integration of aging in place practices and accessible renovations.
Mobility and simple tasks are more challenging in a traditionally designed home (non-accessible), which is where modifications come in to rectify those challenges. There are solutions for every aspect of your home, from wheelchair lifts, to showers, to small things like opening a drawer.
The most common accessible renovations we see are bathrooms, kitchens and most notable installing residential home wheelchair lifts. Such installations involves many specific considerations and safety that can easily be overlooked.
Thinking of absolutely every aspect of someone's daily life and finding better solutions is our passion. By installing innovative products, working with occupational therapists, and using our creativity we can best fit your home so you can do the things you love. Last but not least, providing these modifications eliminates the difficult decision of moving away from your beloved home.
Different types of lift for wheelchair
---
When it comes to choosing the right wheelchair lift for your home, there are various options available in the market. Each type of lift has its own unique features and benefits that cater to different needs.
One of the most popular types is vertical platform lifts (VPL) or vertical wheelchair lift, which elevate wheelchairs vertically between two floors. They are ideal for both indoor and outdoor use and can be customized to fit any space.
Another popular option is inclined platform lifts, which move at an angle along stairs. These are perfect for homes with staircases as they allow easy access without having to install a separate elevator or vertical lift.
Portable wheelchair lifts are also available, providing a temporary solution for those who need assistance getting up small steps or curbs outside their homes. They can easily be transported from one location to another.
Ceiling-mounted lifts offer a unique solution by using overhead tracks that suspend the individual's wheelchair while moving them from room-to-room within their home.
Understanding each type of wheelchair lift will help you make an informed decision on what works best for you based on your mobility needs and budget constraints.
See also wheelchair lifts for vans & cars
The installation process
The installation process of a residential wheelchair lift can vary depending on the type of lift and the layout of your home. Before installation, it's important to have a professional evaluate your space and determine which type of lift is best for you.
For vertical platform lifts, a shaft or enclosure will need to be built around the lift, along with an appropriate foundation. This ensures that the lift is stable and secure. The installation process also involves electrical work to power the motor and controls.
Inclined platform lifts require less construction as they are typically mounted on existing staircases. However, some modifications may still be necessary such as widening doorways or adjusting banisters for safety reasons.
Portable wheelchair lifts offer flexibility in terms of installation as they do not require any permanent changes to your home. They can simply be set up where needed and easily moved from one location to another.
Regardless of which type of wheelchair lift you choose, professional installation is key for ensuring proper functionality and safety. It's recommended that you hire an experienced contractor who specializes in accessibility installations for optimal results.
Maintenance and safety
Maintenance and safety are two critical aspects to consider when it comes to wheelchair lifts installation in homes. It is essential to keep the equipment well-maintained, so it functions optimally and remains safe for use.
Regular maintenance checks should be carried out on all parts of the lift, such as cables, rails, motors, brakes, and controls. Lubrication of moving parts should also be done regularly to prevent wear and tear.
It's important to note that only qualified technicians should carry out repairs or maintenance work on a wheelchair lift. Attempting any DIY fixes could lead to further damage or accidents.
Safety features such as emergency stop buttons and alarms must always remain operational. Additionally, proper signage indicating weight limits and operation instructions must be visible at all times.
Homeowners can ensure maximum safety by adhering strictly to manufacturer guidelines regarding usage restrictions. Caregivers who assist users with mobility issues must undergo training before operating the equipment safely.
Regular maintenance checks coupled with strict adherence of manufacturer guidelines will go a long way in keeping your home wheelchair lift safe for use over an extended period.
Wheelchair platform lift cost
The cost of a wheelchair lift for your home can vary depending on several factors such as the type of lift, design and installation. It's important to note that installing a wheelchair lift is an investment towards improving accessibility in your home.
The most common types of wheelchair lifts include vertical platform lifts, inclined platform lifts and portable lifts. Each type has its own unique features which influence their cost.
Vertical platform lifts are one of the most popular options for residential use and can range from $5,000-$15,000 depending on the height needed. Inclined platform lifts tend to be more expensive due to their complex installation process; they typically cost between $10,000-$20,000.
Portable wheelchair lifts are less expensive compared to permanent models since they don't require any installation. Their cost ranges from approximately $2,500-$8,000 depending on weight capacity and other features
While these costs may seem steep initially – it's important to remember that installing a reliable and safe wheelchair lift will make daily life much easier for those with mobility issues while also increasing property values should you decide sell your house later on down the road.
Where can I install a wheelchair lift in my home?
---
When it comes to installing a wheelchair lift in your home, one of the biggest questions is where to put it. The answer depends on several factors, including the layout and size of your home, as well as your specific accessibility needs.
One common location for a lift is in the garage or basement. This allows for easy access from outside or inside the house, depending on where you park your car. It also provides a discreet entrance that won't disrupt the flow of other rooms in your living space.
Another option is to install a lift adjacent to a staircase or hallway area. This can be more convenient if you have limited space in your garage or basement, and it can help blend the elevator seamlessly into the rest of your home's décor.
Ultimately, there are many different options for installing a wheelchair lift in your home. By working with an experienced installer who understands both residential construction and accessibility requirements, you can find just the right location for this essential piece of equipment.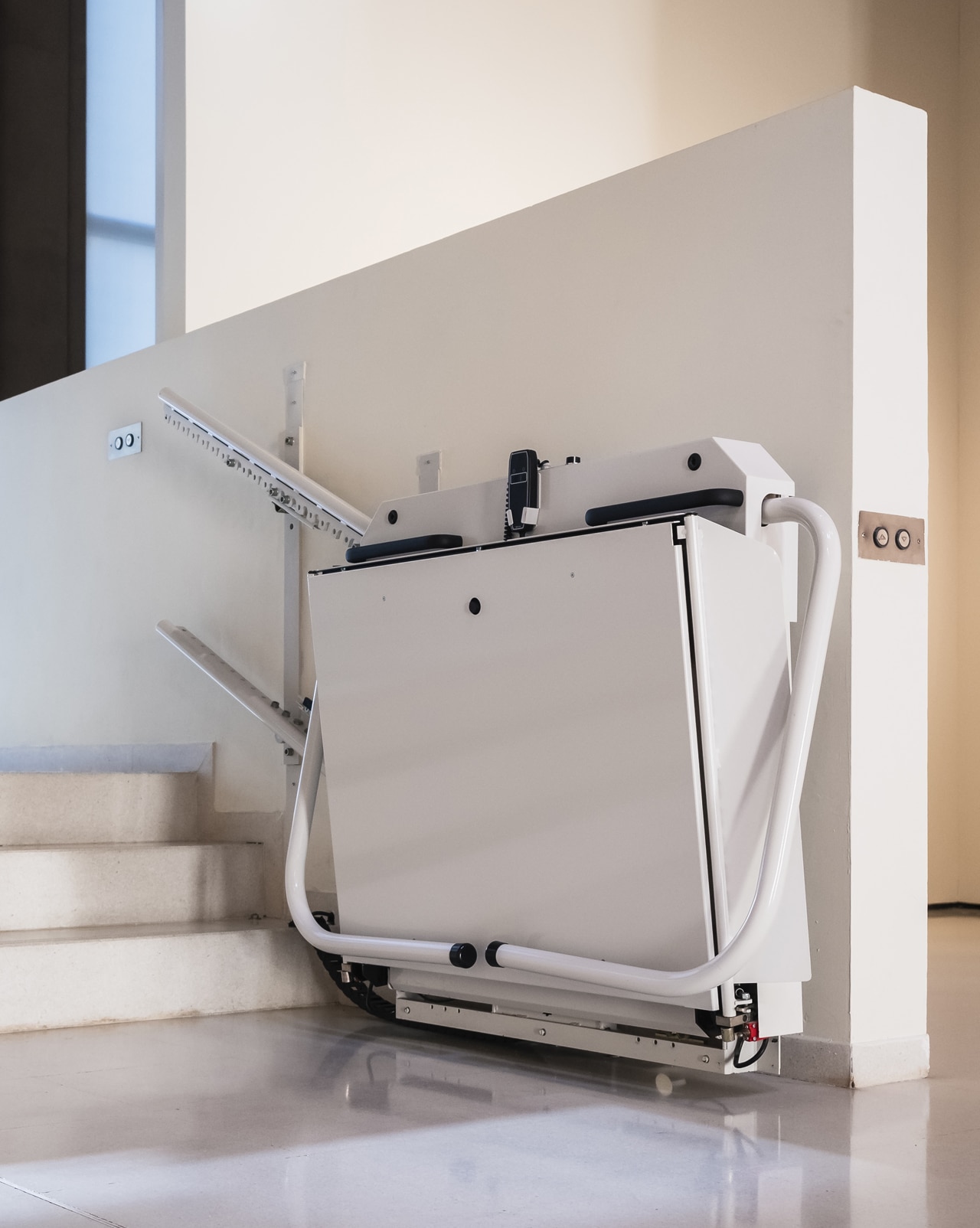 Wheelchair lifts for aging in place renovations
---
Installing a wheelchair lift in your home offers many benefits for individuals with mobility impairments. There are various types of lifts available, such as vertical platform lifts and inclined platform lifts, to suit different needs and preferences. The installation process is relatively straightforward and can be customized according to the layout of your home.
Moreover, regular maintenance is crucial to ensure safety and longevity of the lift. While the cost may vary depending on factors like type and size, it's important to consider it as an investment towards enhancing accessibility in your home.
If you or someone you know plans to age in place at home despite physical limitations, a lift for wheelchair can significantly improve quality of life by providing easier access between floors. With its practicality and convenience for daily living activities like bathing or going to bed without assistance from others.
So if you're looking for ways to make your home more accessible or planning ahead for future needs due to aging or disability – installing a wheelchair lift could be an excellent option worth considering!
Discover a More Accessible Home with Shift Accessibility
Take the first step toward making your home more accessible by contacting us. Our high-quality craftsmanship and extensive experience with accessibility renovations in Winnipeg can transform any house into an accessible home. Get your estimate by contacting us today!