Our inclusion of accessible features like wheelchair ramps in homes and workplaces are improving. These improvements are happening in building codes which affects mostly new builds. Although the situation is improving, there are still many public areas that are not accessible with proper ramps for wheelchairs. A quick solution is to have a portable wheelchair ramp for accessibility you bring with you.
But dealing with renovations and retrofits, the accessibility is a lot more challenging. It should be structurally sound, last forever, and aesthetically pleasing. If you or a loved one uses a wheelchair, it is certainly worthwhile to install wheelchair ramps at your home. But which type of ramps for wheelchairs is best for you? Continue reading and we'll walk you through the different types of home and portable wheelchair ramps.
A ramp will make life much easier if anyone in your household is dependent on a mobility device, whether short or long term. To choose the best wheelchair ramps for your Manitoba home, look at these 9 different types and their features. Before you install a permanent ramp, be sure to consult the proper building codes and permits.
Portable Wheelchair Ramps
Threshold Ramps

Threshold ramps can be composed of either metal or they are rubber wheelchair ramps. They're designed so that they can sit flush against the lip of a curb or the threshold of a door. Generally, threshold ramps for wheelchairs are between one and six inches in height. They're also very lightweight and you can use them on both the outside and the inside of a doorway.
Threshold ramps is a portable wheelchair ramp that is easy to use. Also cost-effective and provide excellent mobility solutions to people who use wheelchairs, scooters, or walkers to get around. And not to mention, there are many styles out there blend in to your home.
Lego-Style Threshold Ramps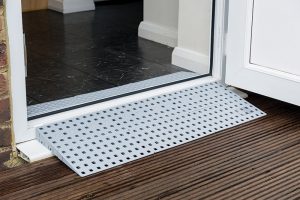 Although this ramp does resemble the popular children's toy, it's not actually made out of Lego. Lego-style threshold wheelchair ramps is lightweight and configurable. This type of portable wheelchair ramp would be ideal if your entry in uneven or two layers of thresholds. It also allows water to flow through it unlike rubber threshold wheelchair ramps.
These wheelchair ramps can be used on the doorway both inside and outside. They are typically available in 1.5-inch heights and 7.5-inch heights. Many of these ramps can support up to 300 pounds.
Folding Ramps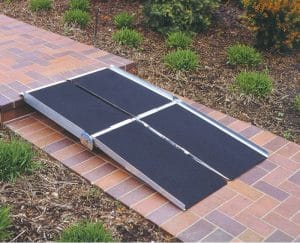 Folding ramps for wheelchairs typically consist of either a tri-fold (four panels) or bi-fold (two panels) with hinges placed between each of the panels. The tri-fold ramps fold over three times while the bi-fold ramps fold over only once.
It's worth noting that folding ramps aren't code compliant and they don't have handrails. So they should not be used for commercial use. You can place a folding ramp over a set of stairs that lead into your house, for example. This is mostly for temporary solutions.
Suitcase Ramps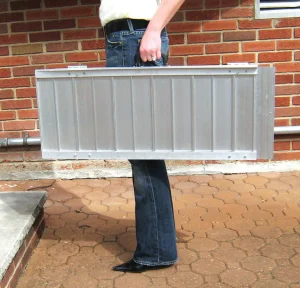 A suitcase ramp is one of the best ramps when it comes to portability. These are usually around four feet long and they can support around 800lbs. A suitcase ramp can lay directly on top of a small set of stairs so it's also useful for home use.
This kind of ramp is also not code compliant so it should be used for personal and temporary use only.
Telescoping Ramps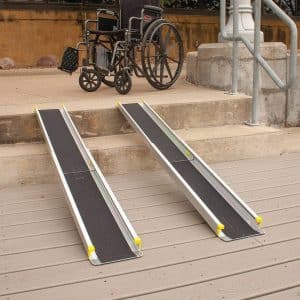 A telescoping ramp is made of two narrow, separate channels. These channels are typically no wider than one foot each. The ramp can retract and extend so that it can reach your desired length.
The channels are placed next to each other and are meant to line up with the wheels on your wheelchair. Telescoping wheelchair ramps are especially helpful when it comes to getting into vans that are not wheelchair-accessible, however many people in wheelchairs struggle to have proper headroom when sitting in their wheelchair in an unconverted vehicle.
Although, telescoping ramps aren't always compatible with mobile scooters because the wheels often don't properly line up. Or the ledges are too high.
Rollable Ramps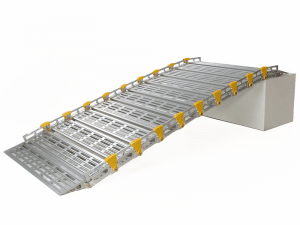 Rollable wheelchair ramps are one of the easiest ramps to take with you on the move. These are portable wheelchair ramps and it can fold which makes them very easy to carry. They also come in various sizes. Most rollable ramps for wheelchairs are made out of aluminum and they're durable as well as lightweight.
The surface is non-slippery so you can step or roll on it with ease. These ramps are especially useful when moving in and out of buildings and vans that are wheelchair-accessible.
Modular Wheelchair Ramps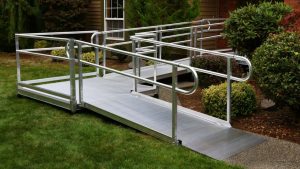 When it comes to wheelchair ramps specifically for home use, you may want to opt for a modular ramp. This kind of fixture is more permanent and larger than the other ramps listed above. Luckily, you don't need a building permit because it is possible to break this ramp down and reassemble it somewhere else.
This fixture is made out of ramp sections that are built off-site and then brought to your home to be quickly assembled. Aluminum is one of the best materials to make modular ramps out of, especially for outdoor use. This is because aluminum is cost-effective and it doesn't warp or rust.
Permanent Wheelchair Access Ramps
This is another good choice for home wheelchair ramps. They are typically made out of concrete or wood. The caveat with a permanent wheelchair ramp is you can't adjust or move this ramp after it's been set in place. On the bright side, it can be designed and constructed to blend in to the front of your home. To fir the aesthetics of the home.
For these wheelchair ramps, you will to acquire a building permit to construct it. Unlike a modular ramp, this kind of fixture is built totally on-site. This means that construction and installation time will take longer than a modular or portable wheelchair ramp.
Wooden Ramps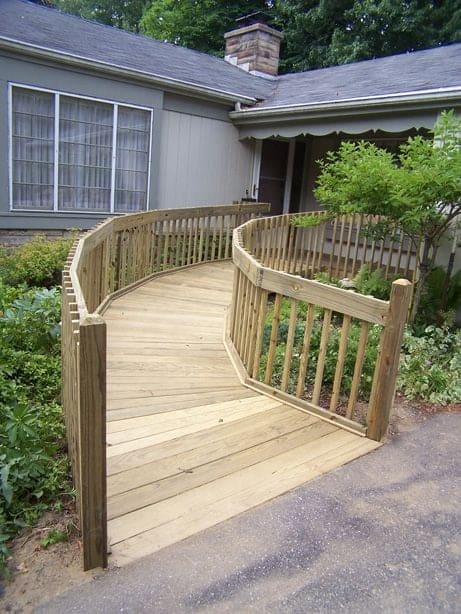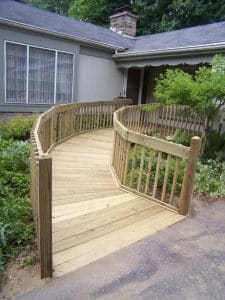 You can hire a carpenter to construct a wooden ramp. However, if you are good at DIY, this kind of ramp is fairly easy to build. It's built similarly to a deck or porch. You'll find plans and even kits to help you put it together, with or without handrails. Wooden ramps are aesthetically pleasing and customizable like aluminum ramps, yet quite a bit more affordable due to availability in materials.
For wooden ramps for wheelchairs that will stand up to Manitoba's rain and snow, purchase pressure-treated lumber. Protect your handiwork by treating it with high-quality deck paint or sealant. To guard against slippage, there are special gritty additives you can mix with the paint. Or apply grip tape or aluminum treads.
Concrete Ramps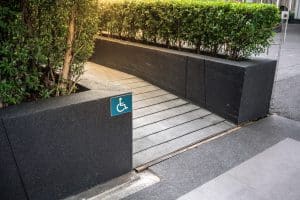 Although concrete wheelchair ramps is costly to install and remove if necessary, this type of ramp is super sturdy and long-lasting. A concrete ramp will stand up to anything that our harsh local winters can throw at it, and its naturally rough-textured surface will keep wheelchair treads from skidding. Concrete ramps are usually precast– that is, moulded and cured in a factory. Because measurements must be exact, installation is a task for an experienced concrete worker.
The Importance Knowing About the Different Types of Ramps For Wheelchairs
As we can see from the list above, there are all types of wheelchair ramps available to us. They range in size, cost, and portability. While all of these ramps can be helpful, there are some that will likely be more helpful to you than others.
Before purchasing ramps for wheelchairs, you should first think about what you expect to get out of the ramp and what your budget is. You'll also have to consider how big the ramp is and how much weight it can support. And if you get a portable ramp, you'll have to think about how you intend to carry it with you.
Height might be a factor, the higher you need, the longer or more space a ramp will have to be. So, you may want to consider a vertical porch lift versus wheelchair ramps.
Are you currently looking to install wheelchair ramps or other mobility solutions? We are certified accessible renovation experts in Manitoba that knows everything about accessible wheelchair ramps for your home or workplace. Contact us today and see how we can help you!