Shift Accessibility specializes in kitchen renovations, especially for accessibility! What does that mean? Although we do what every other contractor can do, we have an added niche. And that is, knowledge of all things that require accessibility. We know the codes and regulations, latest innovative products, and designs. And best of all, an adept knowledge of the challenges a home can be for persons with reduced mobility. If you are looking for kitchen renovation ideas, you've come to the best place. As we are the only kitchen renovation contractor that specializes in accessible renovations, and we are passionate about it.
Accessible Kitchen Renovation Ideas For Everyone
In this article we will talking about accessible features needed in a kitchen for someone in a wheelchair or a disability. Kitchens are active working spaces and can be dangerous. It is crucial that there is a safe implementation for users with a disability. So they can continue preparing their own meals safely. Nonetheless, maintaining independence and eating healthy is essentially for a healthy lifestyle. Such features we will describe below are height adjustable cabinets and countertops.
Now, we mentioned these features are for everyone and you're wondering why. Firstly, these kitchen renovation designs are also targeted amongst the elderly who want to remain in their home as they get older. Thus, also giving the opportunity to cook for their families safely. All things considered, the point i'm trying to make is, we all get old. And at some point could use features such as cabinets that come to your level for an easy reach.
A second point to have these accessible kitchen renovation implemented, is the added resale value. Accessible renovations and features are most often a certainty when it comes to your return on investment. That is due to a few market factors such as, our population is getting older. The demand in homebuyers are increasing in age, and will be more attracted to homes that have the ability to age in place. Also some accessible things like wider doorways and hallways, walk-in showers are attractive for any buyer.
Given these points, home accessibility renovations is a look into the future. And if you are planning a substantial kitchen renovation with an average kitchen renovation cost, why not explore some of these ideas. Not only for resale but also having the peace of mind that you will be able to remain in your home comfortably as you get older. Even such situations as having your home accommodating for a disabled visitor can be a smart and inclusive decision.
Before Renovating a kitchen
Before a kitchen renovation, we always assess what your needs are in every angle possible. Whether it is for an aging in place remodel, accommodating a wheelchair or other decreased mobility issues. Or maybe you are looking ahead during a new build or kitchen renovations. You may not require accessible features right now but want to do your kitchen renovations properly from the start for your future.
With that assessment, we recommend the best solution for your situation and demands. In addition, we work closely with occupational therapists to get the utmost best accessible kitchen renovation tailored to your situation. Occupational therapists will examine a person's mobility and limitations and thus make recommendations to us. These recommendations determine things such as what features they require and where in the home (ex: grab bars), what height things need to be, and many more. We stress the point of assessment before tackling a project as we believe in renovating a kitchen the right way once.
Also, if you have a disability and looking for ways to alleviate some costs of your accessible renovation. Check out the many Canadian grants and tax credits available.
1. Height adjustable cabinets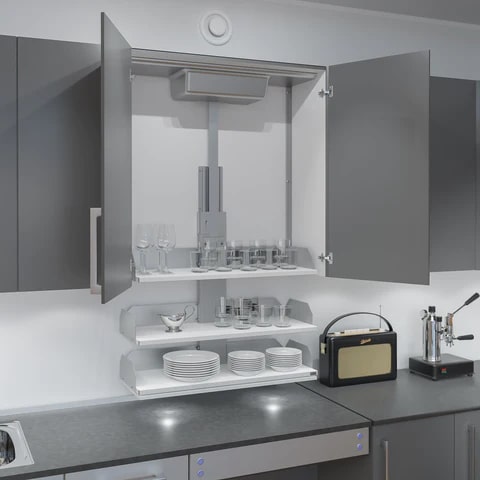 These electric height-adjustable lifts lowers the cabinet shelves quickly and silently down to the countertop. Giving the ability to reach (and use) the top shelf of your cabinet. Let's face it, those top shelves can be hard to reach for many people. The contents of the cabinet are accessible without having to open the doors. When lowered, free space on the countertop remains in front of the shelves to place removed items. The movement can be stopped at any height with sensors below the lift. In the case that an object was left behind after the cabinet started lowering, or something rolls under, the cabinet would stop. Providing a safe way to utilize the storage in your kitchen renovation.
The lift takes up little space and can easily be mounted in existing or new cabinets without them having to protrude further from the wall. Fits wall cabinets that are 37.6" high or taller. The lift is available in two different depths and in a range of widths to fit cabinets that are 24"- 36" wide. The lift is equipped with a reliable safety system that guarantees safe operation without any risk of pinching. Lighting and a light ramp can be mounted on the underside of the lift.
See Grandberg Cabinet lifts to view selection 
2. Height adjustable countertops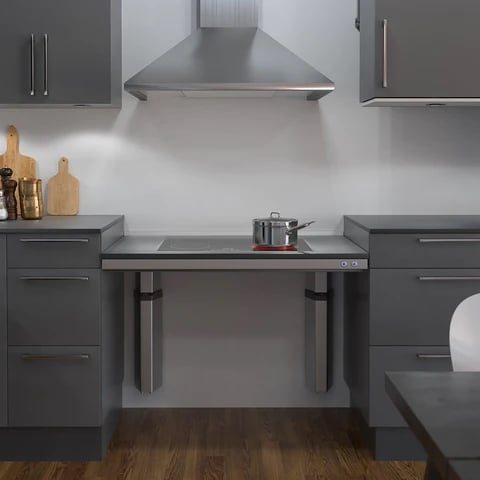 There are many countertop lifts that give great flexibility and options to be adapted for different needs. The lift can be used separately or together with wall cabinet lift to totally adapt the kitchen. There is clearance under the work surface for knees and legs, making it wheelchair accessible. Installations below the work surface, (motors, water, drainage), can be concealed by telescopic cover plates that give the kitchen an attractive and seamless appearance.
The motors are continuously adjustable and move the work surface quickly and silently to the required height. The lift is equipped with a reliable safety system and sensors. This provides safe operation with no risk of crushing the user or any object below the countertop. There are many customizations for the equipment in the work surface. Suc as sink units, drawers, chopping boards, stoves and other accessories can be integrated in the work surface.
3. Kitchen Island lifts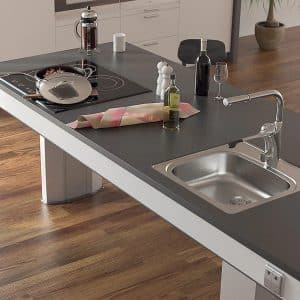 Both tall and short people work in the kitchen and everyone needs different working heights. Moreover, different kitchen chores require different working heights. These products creates a kitchen in which everyone can work comfortably while also providing a natural hub in the kitchen where people can gather, on an ordinary weekday or on festive occasions. The lifting system can be integrated with kitchens from any kitchen manufacturer.
Imagine having a prepping work surface at standing height, and also a sitting dining table. This gives many options and expandability in your kitchen.
Wheelchair accessible sinks
Very simply, these sinks have shallow bowls that make them easy to use. Several models and many sizes to choose from depending on your design and needs. There are also flexible drain hoses and kits to keep the clearance under sink free of any obstructions. Also to accommodate the movability of the countertop.
Electric Wardrobe lifts
Stepping away from the kitchen, there are products for closets and wardrobes. Giving easy-to-reach solutions for those high paces. See here for more info.
Accessible Kitchen Design
Worried that an accessible kitchen renovation will look like a hospital? Not to worry as we implement the cleanest and modern designs. We keep in mind accessibility guidelines for a kitchen that will look good and function well, no matter who uses them. Furthermore, these lifts can integrate in your current cabinets or any other manufacturer. So there is no compromise in design.
We understand that when someone says "accessible kitchen",  it may sound dull and give an off-putting image of a clunky kitchen with a hospital appeal. Thankfully, that is no longer the case. Thanks to modern fixtures and materials, accessible kitchens can be just as trendy as any other kitchen. All while being perfectly safe and easy for everyone to use. At Shift Accessibility, we don't believe you need to sacrifice style in order to achieve a kitchen renovation that is practical and suits your mobility needs.
See our aging in place kitchen design service
Kitchen Renovations Winnipeg
Accumulating kitchen renovation ideas for your home? We hope this article helped you gain insight into incorporating accessible features to your kitchen renovations. Even if you don't require accessibility or you don't have any mobility issues, doing so can help family members who visit. Or better yet, a plan for your future to be able to live in your home for as long as you may like.
The products shown above are provided from Grandberg. Check out all of their other innovative products and get inspired.
Give Shift Accessibility a call or send us a message to talk about your dream kitchen, bathroom, living room, or any other accessible construction project. We're here to listen and help you.