Shift Accessibility specializes in bathroom renovations winnipeg. Especially for accessibility! If you are looking to renovating a bathroom, you've come to the best place. As we are the only bathroom renovation contractors and bathroom remodeling contractor that specializes in accessible renovations, and we are passionate about it.
Before Renovating a bathroom
Before renovating a bathroom, we always assess what your needs are in every angle possible. Whether it is for an aging in place remodel, accommodating a wheelchair or other decreased mobility issues. Or maybe you are looking ahead during a new build or renovating a bathroom. You may not require accessible features right now but want to do your bathroom renovations properly from the start for your future. Not to mention that having accessible bathroom features can add value to your home.
With that assessment, we recommend the best solution for your situation and demands. In addition, we work closely with occupational therapists to get the utmost best accessible bathroom tailored to your situation. Occupational therapists will examine a person's mobility and limitations and thus make recommendations to us. These recommendations determine things such as what features they require and where in the home (ex: grab bars), what height things need to be, and many more. We stress the point of assessment before tackling a project as we believe in renovating a bathroom the right way once.
Also, if you have a disability and looking for ways to alleviate some costs of your accessible renovation. Check out the many Canadian grants and tax credits available.
Bathroom Renovation Design
Worried that an accessible washroom renovation will look like a hospital? Not to worry as we implement the cleanest and modern designs. We keep in mind accessibility guidelines for a bathroom that will look good and function well, no matter who uses them.
We understand that when someone says "accessible bathroom",  it may sound dull and give an off-putting image of a clunky bathroom with a hospital appeal. Thankfully, that is no longer the case. Thanks to modern fixtures and materials, accessible bathrooms can be just as trendy as any other bathroom. All while being perfectly safe and easy for everyone to use. At Shift Accessibility, we don't believe you need to sacrifice style in order to achieve a bathroom that is practical and suits your mobility needs.
See our aging in place bathroom design service
Below, we've compiled a list of the best ideas and things to consider while designing a plan for renovating a bathroom with accessible fixtures and features.
1. Dimensions and Bathroom Entry
The door into the bathroom, and other doors in the house, should be a minimum of 34 inches wide.  The Canadian Standards Association (CSA) requires a 5-foot turning radius for a wheelchair. In order to accommodate a wheelchair, the bathroom door should have at least a 34 inch (815 mm) width but ideally 36 inches wide. As this extra space allows for better access for any wheelchair. You may think that 2 inches more in a doorway is not much of a difference, but once you have it you won't want any less go.  Especially if the door is accessed from a hallway, and you'll have to turn the wheelchair to enter.
Additionally, a completely flat floor at the entry is best so that the wheelchair does not have to roll over a threshold or door sill. Making a seamless entry can avoid hazards and remove risks for a fall. Nonetheless, all doors should have levers instead of door knobs. As this removes the need to grasp and rotate the knob whereas a lever is a single motion.
2. Walk-in and Curb-less Showers
An accessible bathroom renovation often includes a shower rather than a bathtub. This is because it provides an easier access for entry and assistance. In the case where a caregiver or spouse may need to help with the bathing process. Therefore a shower space should be considered primarily. Nonetheless, a shower stall is more universal and used more often with others in the household.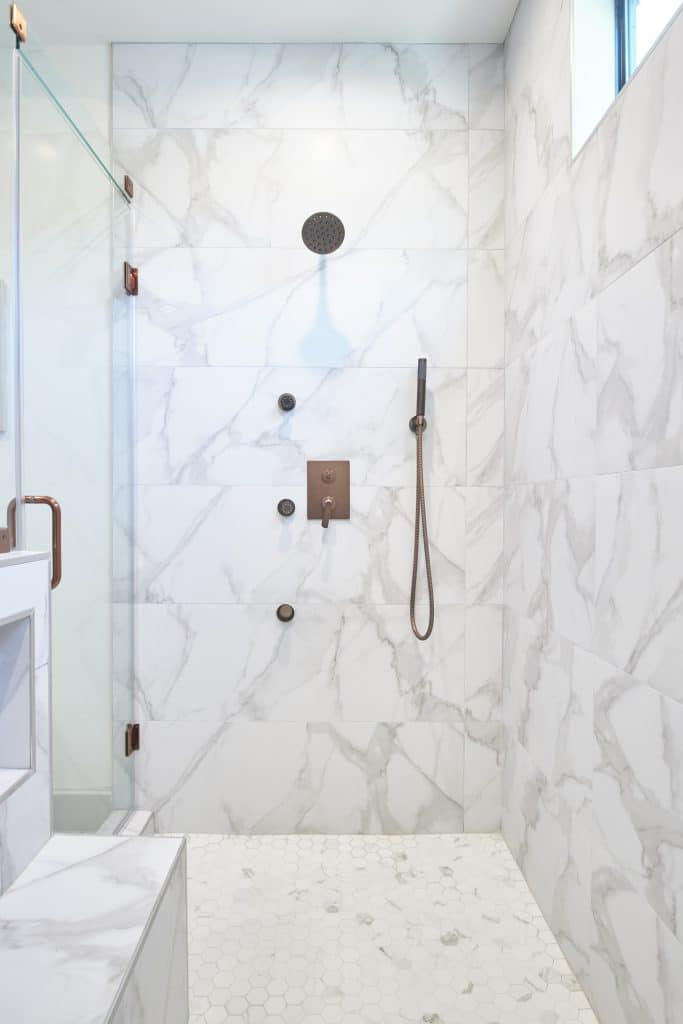 The recommended width of a shower entry is generally a minimum of 32 inches wide. So that it can accommodate a wheelchair as well as an extra person. To make things even better and avoid issues, the entry should ideally be 36 inches wide with a flat (curb-less) floor. Along with a curb-less entry, having no door is a bonus for accessibility. This enables you the ability to wheel directly in without stepping over a curb, or maneuvering around a door. You simply walk or wheel in.
The shower stall should be at least 5 feet wide by 3 feet deep . Again, to give enough space for a wheelchair and an extra person for assistance. A built-in shower seat is another feature to consider if the user's wheelchair isn't impermeable and needs to transfer over. Nonetheless, a seat is good practice to have so someone can sit and reach areas that require better balance. This can be a fold-down bench, portable stool or fixed bench. And not to mention, the shower controls should be easy to reach.
Hand-Held Shower
A great way of adding a touch of luxury to any bathroom is with a handheld shower. A shower-spray mechanism with a hose gives the user flexibility to wash, or for a caregiver to help. This fixture is not only practical and accessible but can also serve as a focal point as part of an otherwise minimal design as these are becoming increasingly popular.
The slider bar for the shower hose and head start 4 feet off the floor so that the head can slide up to 6 feet high. This gives reach options for all users while sitting or standing. Always uses two shower valves, one that is thermostatically controlled and on that is pressure-balanced to prevent users from scalds. If the client wants a full body wash, you can include a regular shower head as well. To avoid a hospital look, there are many options in design that can fit into your bathroom renovation. Have it in a metallic finish like copper or gold, or opt for a more striking monochromatic appeal with an all-black unit.
Walk-in Bath
If you have limited mobility and prefer soaking to showering, walk-in baths are a good alternative to walk-in showers. Walk-in baths have watertight doors and a low threshold, allowing you to get in and out of the tub more easily, without having to lower yourself or pick yourself up. You can choose from a variety of sizes, too. There are compact walk-in tubs designed to help you bathe while sitting up, but you can also get full-length walk-in tubs, offering a more traditional bathing experience. Of course, the style of walk-in tub you should go for depends on your floor space and level of mobility.
3. Accessible Vanity
To allow a wheelchair user to roll directly up to the sink, choose a design that has either a slant or an open space directly underneath the sink. A pedestal sink is another possible choice, but due to the pedestal, certain limitations can occur. The idea for this is to make it easier to turn on the water. Plan on 27 inches of clearance under the sink for the wheelchair. The top of the sink should be 32 to 34 inches off the floor. The P-trap (drain) now goes back toward the wall, or into the wall to give an unobstructed clearance under the vanity.
Secondly, consider a lever style handle on the sink faucet. Much like the doors, this removes the ability to grasp, rotate and pinch, making a universally accepted motion. An added tip is to have the faucets installed on the side of the sink to make them easier to reach. Or even better, install infra-red faucets that detect motion. No grasping, rotating, pinching, clinching, pulling, pushing needed!
Thirdly, above the sink adding a tilted mirror that is slightly angled down allows the wheelchair user to see themselves more easily. And rather than a cabinet behind the mirror or on the wall above the vanity, which could be hard to reach. Consider having lower drawers for storage or a lower cabinet placed in an accessible location.
4. Toilet and Bidet Placement
Ideally, the toilet should be positioned between two support bars 36 inches apart. A higher toilet seat, approximately 17 inches off the floor is a more comfortable height for everyone. I higher toilet is easier for a user to transfer from a wheelchair and requires less effort to go from sitting to standing position. A toilet-bidet fixture combination is also recommended, although these add bathroom renovation costs. But it does add to the safety features of the accessible bathroom.
We also recommend wall-hung toilets in many bathrooms. This not only gives the option to install them at different heights but also the floor can be easily cleaned underneath the toilet, often a difficult area to access. When drawing a plan for renovating a bathroom, it is recommended to leave a space on one side of the toilet to be able to move a wheelchair close, and for include enough space for transfer assistance. Lastly, consider where the flush controls are for these fixtures. Make sure that they are in a location that will be easy to reach for the user.
5. Grab bars
Grab bars are essential for accessibility, and usually the first thing to incorporate while renovating a bathroom. You might think grab bars are nothing but supportive eye-sores. However, you can find stylish hand rails that blend nicely into your bathroom decor, offering a more subtle alternative to some of the more plain options.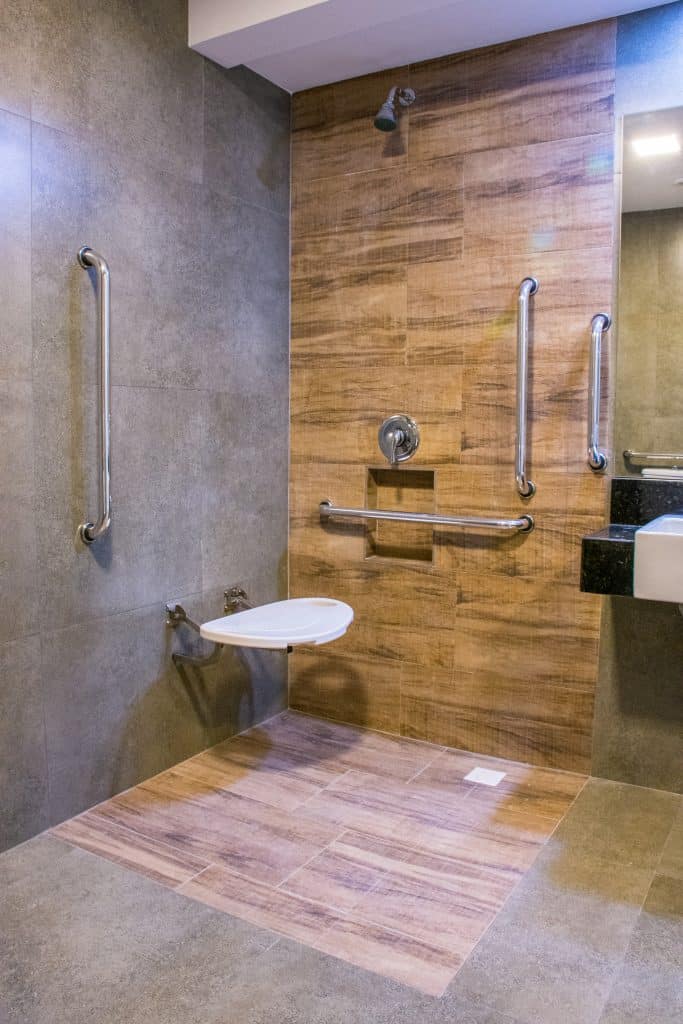 Every accessory in the bathroom must be considered carefully to avoid conflict over the grab bars. This is especially important when installing them during a bathroom renovation, as some accessories may interfere with the minimum clearance of the grab bars. Which can possibly make it difficult to fully grasp your hand around the bar and rendering the bar useless. Also, it is important to think of the destination of the user while using the grab bar, so that the motion and path remains constant and safe.
6. Lighting
You may not think that lighting is a factor for an accessible bathroom renovation, but it is highly important. Illuminating the area properly is essential for the visibility of the user. In a bathroom you are grabbing, manipulating, and moving around objects. And you have to be able to see these objects to avoid injury. Consider adding lights in the shower (moisture resistant) for added visibility. And sconces at eye level at the vanity mirror.
A lighting design considers the an even spread of light in the entire space. An even spread lighting is the calculation of the beam of the fixture according to its height, and placing the proper amount of those fixtures to create an even illuminance where there are no dark spots and no highly illuminated areas. Too much light can be dangerous too. See here for an online lighting beam angle calculator.
Colour temperature is another important factor in lighting. They are measured in kelvins and are generally from 2700k to 5000k (orange to white). With LED lights, more specifically integrated lighting like recessed lights and fixtures, you need to select a fixture with the appropriate temperature before installing. As it may not be easily changed like replacing a bulb. Some fixtures come with a selector to choose the temperature needed during the bathroom renovation. A bathroom requires a colour temperature of 4000k or more.
Also note that some units have a dim-to-warm feature, which replicates the effect of an incandescent bulb where the colour temperature decreases when the light is dimmed. This is a great thing to have for light during night time use. Having a lower colour temperature at night is safer for the eyes as it doesn't require your eyes to adjust drastically. See this article for more information.
7. Wet rooms
More than just an accessibility requirement, a wet room is quickly becoming the sought after look for new bathrooms. In fact, wet rooms are becoming the ultimate symbol of a luxury bathroom. Not only are they perfect for all ages, but they also help to maximize limited space while giving your bathroom a contemporary minimalistic vibe.
A wet room is a totally waterproofed or tanked bathroom with a shower area at the same level as the rest of the floor. The water drains away through a flush drain within the shower area. As the walls and floor are sealed by a waterproof membrane, there is no risk of runaway water causing damage to the walls and subfloor.
Wet rooms can offer the safest access of any accessible bathroom. With level access flooring throughout, there are no lips or steps to trip over.
Bathroom Renovations Winnipeg
Getting ideas for your washroom renovation? We hope this article helped you gain insight into incorporating accessible features to your washroom renovations. Even if you don't require accessibility or you don't have any mobility issues, doing so can help family members who visit. Or better yet, a plan for your future to be able to live in your home for as long as you may like.
Give Shift Accessibility a call or send us a message to talk about your dream bathroom, kitchen, living room, or any other accessible construction project. We're here to listen and help you.