Accessibility in the workplace
Many Canadians living with a disability are faced with challenges. Many of those challenges involve working in an environment that isn't accessible. Or, are faced with the hard decision to neglect their dream position due to lack of accessibility in the workplace. A barrier free washroom is a top choice to begin your workplace transition to obtaining accessibility in the workplace.
When it comes to barrier free washrooms, contractors are under increasing pressure to meet client expectations. While simultaneously satisfying applicable jurisdictional codes, regulations, standards, and applicable barrier free bathroom concerns. With respect to the Canadian Standards Association to address and regulate numerous design elements, including:
Clear floor area
Turning circle
Door placement
Mounting height of washroom accessories
Reach distance
Protrusion avoidance
Under lavatory volume
Toilet compartments
Urinal screens.
Read more on how to make the workplace more accessible
Where to find barrier free washroom standards?
When designing barrier free washrooms, Canadian Standards Association (CSA) B651-18, Accessible Design for the Built Environment, should be followed to ensure best practices. While the Americans with Disabilities Act (ADA) is not mandatory in Canada, it still provides important information to guide design of barrier free bathrooms. Further, some of the issues covered in this article are not described as thoroughly by the Canadian standard. Consequently, you may wish to consider employing ADA standards as a supplement to CSA B651-12. And also, you may have local codes that pertains certain accessible requirements.
Selecting and positioning barrier free bathroom equipment
There are many elements to consider to have compliant barrier-free washroom requirements. By choosing carefully from a variety of fixtures and barrier free washroom equipment we can achieve an accessible washroom for your workplace. As also which types of products, features, and placement. There are 10 additional key considerations to incorporate into barrier free bathroom design.
1. Clear width
A  standard for barrier-free washroom size is to have a minimum clear width, or finish-to-finish surface. The width must be consistent throughout an accessible route. This permits a disabled person to have access to spaces without needing to weave in and out. Clear width of accessible routes must have a minimum of 36 inches. This width complies to accept any size wheelchairs to pass with ease. Clear width of door openings at vestibules and passage ways through walls must provide a minimum of 32 inches clear space. Swing doors have to provide 32 inches minimum at openings, taking into account size of the door frame, space used by hinges, door width, and a full 90-degree swing.
2. Accessible route
Accessible routes is the first thing to design in a barrier free bathroom. It is the path of a user from entry to the last applicable washroom fixture. As discussed, accessible routes must maintain a minimum width of 36 inches. With this in mind, designers must be aware of protruding object issues to avoid washroom equipment overlapping into accessible routes.
3. Clear floor area
Clear floor area at the door to a barrier free washroom must satisfy front or side approach requirements. With a front approach, the requirements are 47 x 47 inches clear floor area on the door's push side, and 59 x 59 inches on its pull side. Barrier free washroom accessories also require enough clear floor area to permit wheelchair-users easy access. The minimum wheelchair clear floor area is 30 x 47 inches. Since the clear floor area on the multi-user washroom door's pull side must remain unobstructed, one should refrain from placing washroom accessories or other components in this location.
Further, since accessible routes must always remain free, designers should be wary of any washroom accessories that can create clear floor area overlaps. Such as accessories folding open and into the pull-side door's clear floor area. Similarly, when an electrical or mechanical component clear floor area overlaps into that of the door's pull side, accessible routes may again become restricted. To avoid conflicts with accessible routes, the designer may wish to consider moving washroom accessories, equipment, and electrical/mechanical components to a suitable location away from the pull-side door clear floor area.
4. Protruding objects
Objects mounted on columns, walls, or freestanding supports cannot protrude beyond 4 inches horizontally outward from the wall. To avoid this issue entirely, designers and contractors may wish to consider acquiring barrier free bathroom equipment. Specifically fixtures that don't protrude beyond 4 inches horizontally outward. To be proactive in the designing, contractors and designers may wish to provide sufficient wall space to permit recessing or semi-recessing washroom accessories. Such protruding objects can be hand dryers, towel dispensers, baby change stations and others.
5. Reach distance and height
Those using wheelchairs need to be able to reach the operable components of barrier free washroom equipment. Along with light switches, thermostats, and the back of shelves. CSA standards regarding both front and side reach height is a maximum of 47 inches. Front and side reach height for purposes of grasping up to 20 inches over an obstacle or obstruction is, respectively 43 inches and 47 inches. Designers may wish to consider specifying, for example, feminine napkin and tampon dispensers at 47 inches to coin slot (which is the operable component).
6. Under lavatory/sink space
There are many measurements to take in to account for a proper lavatory design in a barrier free washroom installation. See below for a list of measurements:
27 inches minimum vertical knee clearance after finished floor to underside of sink
9 inches horizontal toe clearance beneath knee clearance (measured toward wall), leaving about 4 inches horizontal toe clearance measured outward from wall
8 inches horizontal knee clearance beneath knee clearance (measured away from sink)
9 inches vertical toe clearance after finished floor to above wheelchair foot pedals
28 inches minimum vertical clearance after finished floor to underside of front edge of sink, or counter
32 to 34 inches vertical measurement after finished floor to upper portion of front edge of sink, or counter.
One should also consider 39 inches after finished floor to the top edge of the bottom frame of a mirror over lavatory or sink.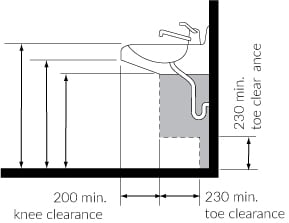 7. Front versus side approach
In regard to toilet compartments, partition doors must be located on a diagonal opposite the toilet. This requirement, coupled with front approach, permits a person in a wheelchair to easily drive forward into the accessible compartment, and reverse into a position adjacent to the toilet. Front approach dictates 59 x 59 inches of clear floor area for a person in a wheelchair to access pull-side change room, shower room, or toilet compartments.
In terms of a side approach, people in wheelchairs require additional manoeuvring to access the position next to the toilet. CSA requires a side approach to compartment doors to be considered as entry through doors in general. Having said that, assuming side approach is achieved from latch side of door, one requires a 47 inches wide passage to access a handicap-accessible change room, shower, or toilet compartment.
When it comes to door approach and swing, CSA's requirement for handicap-accessible doors is 32 inches. However, the accessible route is 36 inches and wheelchairs are available in larger sizes, so designers may be better off providing 36 inches barrier free bathroom doors.
8. Grasping, pinching, or twisting
Accessible components must remain accessible to all. Tight grasping, pinching, or twisting is not permitted anywhere in a building (with exception to maintenance and security concerns). So, with this in mind, the physically challenged, or those with limited dexterity, use their fists as a paddle to access washroom accessories equipment and fixtures. To satisfy requirements, designers may wish to consider hands-free, D-type pull handles, slide latches, and levered handles as a means to access barrier free bathroom equipment, compartments, and fixtures.
there are special requirement when it comes to levered handles. They must meet a 5 pound maximum force requirement to satisfy barrier free washroom concerns. In this way, everyone may access washroom accessories and fixtures, along with change room, shower, and toilet compartments, with relative ease.
Barrier free bathroom accessories
All barrier free washroom accessories must be thought of in terms of accessibility. There are many items needed to be considered for accessibility in different areas of a barrier free bathroom. There are many items in a toilet compartment or stall that can prove challenging for some to reach. There are many dimensions to a lavatory and sink for a person in a wheelchair to comfortable wash their hands properly. And finally the hand drying station needs to be installed correctly.
Toilet stall accessories
Typical accessories found within toilet stalls include toilet-paper dispensers, feminine napkin and tampon disposals, grab bars, toilet-seat-cover dispensers, and shelves. In the case of barrier free bathroom toilet stall, contractors must remember some washroom accessories require a minimum clear floor area of 30 to 47 inches, and other accessories must be accessible from a toilet, this enables a person in a wheelchair to access washroom accessories as required with relative ease.
However, contractors must take care to consider the order in which some required barrier free bathroom accessories are accessed by a person prior to transferring from a wheelchair onto a toilet. For example, a person in a wheelchair will require a toilet seat cover before transferring onto a toilet. Thus, the toilet seat cover dispenser will require minimum clear floor area to permit a person in a wheelchair to access the toilet seat cover prior to transferring onto a toilet.
Every accessory in the stall must be considered carefully to avoid conflict over other accessories.  Especially when installing grab bars, some accessories may interfere with the minimum clearance of the standard for grab bars. Which can possibly make it difficult to fully grasp your hand around the bar and rendering the bar useless.
Lavatory and sink accessories
There are many components to a lavatory station and all components are essential for hygiene. We've especially learned this with the 2020 COVID-19 pandemic with constant reminders to wash our hands properly. If the reach of these items are difficult for some or not obvious of their placement the health of the workplace can be compromised. Typical lavatory and sink washroom accessories may include:
Paper towel dispensers
Waste receptacles
Combination paper-towel dispenser and waste receptacles
Soap dispensers
Soap dispenser reservoirs
Hand sanitizer dispensers
Mirrors
Facial tissue dispensers;
Hand dryers
Feminine napkin and tampon dispensers
Baby change stations.
As mentioned above, critical issues in a lavatory station is to maintain a reach distance and height of 47 inches to respective operable component of accessories. As also examine the required clear floor area of washroom accessories. Take under advisement to avoid the need of tight grasping, pinching, and twisting on components. And last but not least, assure accessible routes are unrestricted and free of protruding objects.
Hand dryers
Regarding hand dryers, many manufacturers produce high-efficiency regular, high-speed, and 'blade-type' models. Hand dryers have grown enormously in popularity over the past decade. The combination of better design, excellent performance, and higher efficiency has driven the market forward, along with cost-effectiveness, practicality, and cleanliness.
Standard hand dryers for barrier free washroom applications are 4 inches deep, and can be installed anywhere in a washroom, change room, or locker room. High-speed models require a recess kit, or are available as recessed or semi-recessed units to satisfy accessibility conditions. Contractors must review each product's technical data sheet to be aware whether it possesses key adjustable features such as heaters, filters, and sound pressure or level reduction. For blade hand dryers that are wall-mounted to meet barrier free bathroom requirements, contractors should review the manufacturer's literature to learn which products possess new features such as high-efficiency particulate air (HEPA) filters, anti-microbial filters, adjustable heaters, and adjustable sound pressure or level reduction.
Experts in accessibility renovations
Careful thought and consideration of the design of a barrier free washroom and its accessories will produce ease of access for everyone. Similarly, the location of hand dryers, lockers, benches, urinal screens, along with toilet, change room, and shower partitions must be considered carefully to permit equal and easy access for all.
After revising all of the current codes and standards put in place by the CSA, it would be wise to take under advisement future changes. As the advancements in wheelchairs and prosthetics progress, there may be a need to modify the current standard to accommodate these evolving changes. An example of future developments such as the need for additional building space to accommodate motorized scooters. Some local codes have already elected for an 72 or 96 inches clear space for a full turning circle. This goes beyond the CSA barrier free bathroom recommendations.
Calling in professionals like us at Shift Accessibility is a great way to increase accessibility in the workplace. And most definitely you'll achieve a project that is renovated properly and aesthetically pleasing. All you have to do is call us and we can discuss your barrier free bathroom project and needs.