If you are in search for commercial accessibility renovations Winnipeg, you've come to the best and most qualified place. Shift Accessibility contractors are certified aging in place specialist (CAPS) that provides accessible upgrades to homes and businesses. Shift Accessibility proves to be the leader in this industry by staying current with all necessary codes and regulations at every level. From city, municipality, province and nation. For the best consultation for your commercial accessibility renovations Winnipeg, keep reading.
Is your enterprise looking to take over an old building, or converting an industrial non public-use space into an establishment that will serve the community? You will very likely require a renovation to ensure accessibility to all. On the flip side, even established businesses that have already met building codes are wondering if they can do more. Where do you turn to make sure the job gets done right, and then some?
Renovations Winnipeg | Trusted Accessibility Resource
Shift Accessibility is much more than a commercial renovations Winnipeg company. We are the only renovation expert for accessibility upgrades albeit for residential and commercial properties. We are a certified accessible contractor that has been recognized by local media in the highly specialized discipline of helping the community's valued elders and people with disabilities live life to the fullest. And most importantly, the fact that we can offer the ability for our clients to stay in their very own homes for as long as they can.
As such, we have an intimate level of understanding that no other commercial contractor within renovations Winnipeg can claim. We don't just approach a commercial project as a "job". Instead, we work closely with you to gain a better understanding of the your vision and needs. We will recreate a space that abides the municipal and provincial building codes and best of all, go beyond those rules. Keep reading to learn more of what going beyond means.
Accessibility in the workplace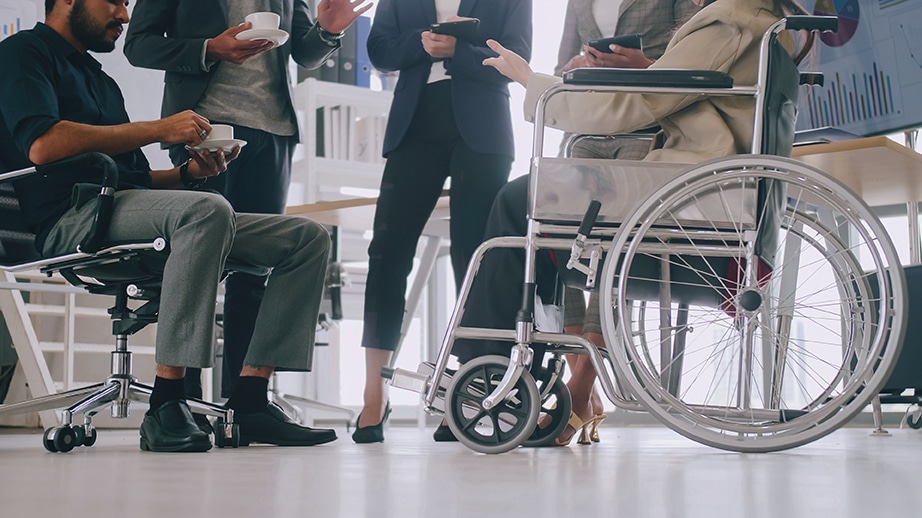 Your fire escapes, restrooms, and main entrance might already be fitted with proper disability access in the workplace. Because such standards in the building codes have long been enforced and dictated the necessity. But it's not enough. Move from room to room, workstation to workstation, in addition to break areas and any other space that is supposed to be used by staff and clients alike. Ask yourself if all wheelchairs, walkers, and knee-scooters (etc.) can move from space to space with relative ease? If not, someone will invariably be singled out, and left out. While widening doors, entryways and removing elevated step-ups in your renovation will make a big difference, consider something more dramatic that better opens up the office.
Many businesses are choosing to knock down entire walls to create a more communal environment and accessibility in the workplace. This not only creates more usable space, studies prove that in a corporate environment it fosters better communication, collaboration, a freer flowing of ideas. By removing literal barriers to entry, you remove figurative ones too. As a result, your office will enjoy greater accessibility, and productivity.
Read our article on 4 ways to make the workplace more accessible
Many Canadians living what a disability are faced with challenges. Many of those challenges involve working in an environment that isn't accessible. A barrier free washroom is a top choice to begin your workplace transition to obtaining accessibility in the workplace.
Read our article on barrier free washrooms in the workplace
Barrier-free business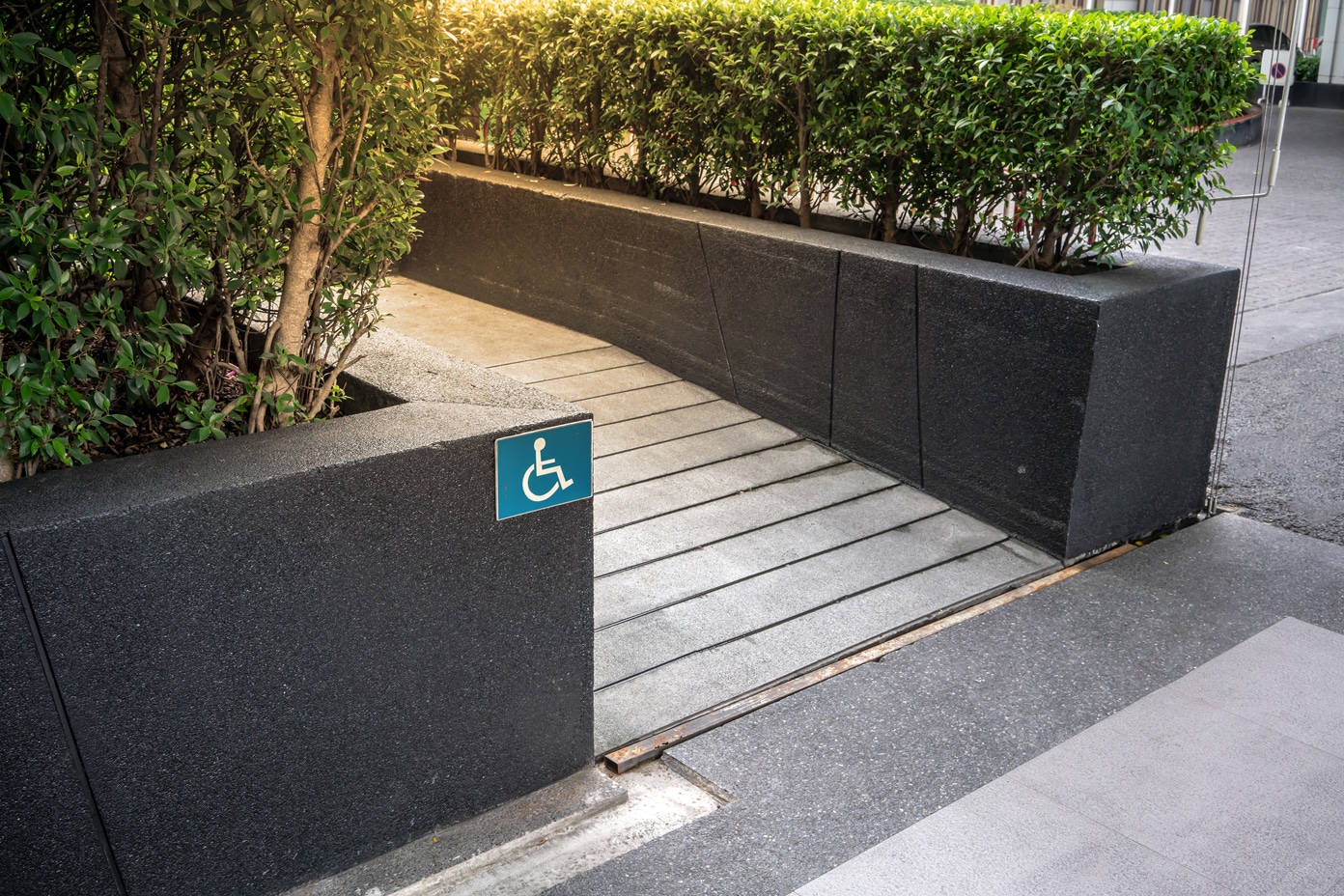 Doing accessible renovations winnipeg, it has an immense amount of advantages. For one, it will allow you to better engage all of the customers, clients, and members of the public that come on to your property. Thus, creating no limits and removing barriers for accessing your products or services. Secondly, it gives a chance to revisit the flow and design of your store or office. Maybe aisles are too narrow and cluttered, so a new store layout could be designed with an accessible perspective. Maybe you current bathroom needs fixing or should be bigger to accommodate a larger staff or clientele.
If you're looking for an efficient lighting upgrade, why not incorporate an accessible renovations winnipeg expert. An accessible renovations expert will provide that extra detail in the lighting system to accommodate multiple disabilities. In the end, everything will be lit that much more beautifully.
We help you go beyond what is required
The City of Winnipeg's most recent Accessibility Plan mission conveys the following:
"The 2021 – 2022 Accessibility Plan communicates the City's commitment to ensuring inclusive access and participation for all people who live, work or visit our city, regardless of their abilities. A requirement under the Accessibility for Manitobans Act, which must be updated every two years, the Accessibility Plan also defines a plan of action to continue to address accessibility barriers in policies, practices and procedures."
While elements of the aforementioned Accessibility Design Standard are certainly included in the above Accessibility Plan, the former has not been updated since 2015 (at press). That indicates that while most commercial properties in operation are abiding by standards, they may be doing so at the absolute minimum. A lot has changed over the last few years. Newer and "smarter" technology (IoT, etc.) has been introduced that may be applied to create more accessible environment. But the integration of them often depends upon renovations to existing spaces.
This is just one example. The point here, is that like the City's Accessibility Plan, your business is also encouraged to revisit on-premises accessibility initiatives on a biennial or even annual basis. Is there a way to make your property even more inviting and inclusive? Probably. However, you're an expert in your business (product, service, etc.) and not likely versed in commercial building accessibility renovations winnipeg. The great news, is that we are!
Woking with professionals
We at Shift Accessibility work alongside occupational therapists for our accessible renovations. An occupational therapist will assess the condition of the individual. Thereafter, they will make expert recommendations for the project and to our designs. That being said, our renovations winnipeg contracts are not only looked at from a contractors perspective. They can also be looked at from a medical point-of-view. Because an occupational therapist knows the limits of certain disabilities and also their progressions.
Occupational therapists are not so much involved in our commercial renovations winnipeg contracts. As they assess and recommend for a certain individual for our home renovations in winnipeg. Whereas for businesses, you need to accommodate for a large spectrum of abilities. But it is important to know that while we have a steady relationship with occupational therapists, we've gained so much knowledge. Absorbing everything we learn from our residential contracts and applying these tricks or products to our arsenal of renovations winnipeg.
We look beyond the building codes, and envision ways that we can help you redefine your property. And significantly establish as a commercial enterprise that puts people from all abilities first. Let's talk about what we can do for you.